Car Rental W/Driver Guide Tanzania From $35/Day, 4×4 W/Driver Tanzania
Car Rental W/Driver Guide Tanzania From $35. Hire a 4×4 w/driver in Tanzania, Dar-es-salaam, Serengeti, Moshi, Mwanza, Zanzibar, Arusha.
Car rental 4×4  offers a 4×4 Car rental with a driver guide or chauffeur hire Tanzania towns and cities of Arusha, Mwanza, Zanzibar, Dar-es-salaam, Dodoma, Moshi, Tanga, Kigoma, Tabora, Moshi and Bukoba at an affordable price of $35 per day.
We offer genuine and authentic 4×4 car rental with driver guide service to all Tanzania National Parks, Serengeti, Ngorongoro conservation area, Lake Manyara, Tarangire, Arusha, Selous, Ruaha, Katavi, Mikumi, Gombe stream and Mahale mountains
Why rent a driver with a rental car in Tanzania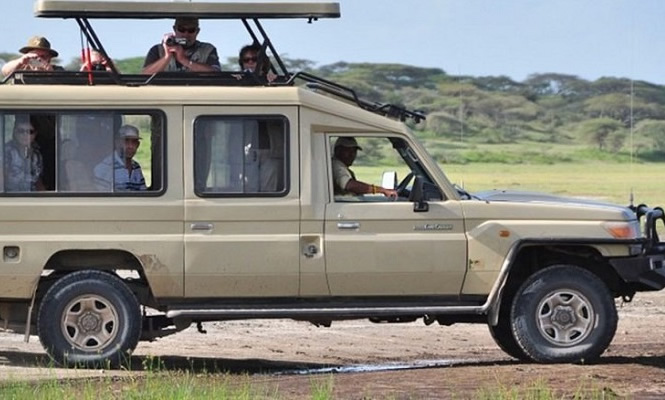 Our customers enjoy frequent benefits on our car rental with a driver/guide, including convenience, productivity, time savings, and driving safety for those corporate business clients, events leisure groups or just simple holiday makers that could make use of the relaxed driver/guide service for their entire vacation period. Imagine a sightseeing great wildebeest migration tour through Serengeti National park on an itinerary that's being drawn up just for you.
The car rental with driver/guide or chauffeur service allows you to arrive relaxed, refreshed and on time. By choosing a car & driver/guide service tailored to your individual itinerary – business or leisure.
If the service is used for business, the client can now put the time spent commuting between appointments to productive use.
For leisure adventure clients, sit and enjoy the stunning Tanzanian views for a change as you are driven in style and comfort without the hassle of having to Google map your way around the Tanzania, or more specifically the Game Parks.
Choose from a wide range of vehicles, including economy cars for transfers, to a more luxurious array of vehicles best suited for special occasions.
Car rental w/driver guide or chauffeur for co-orperate businesses
Our professionally trained driver/guide will meet you, and drive you around Tanzania.  They will also Wait for you while you conduct business making your journey memorable and an enjoyable experience.
Car Rental 4×4 can even custom make your itinerary to take you around and recommend to you the "must do activities as well as the must sea local destinations throughout Tanzania. We will be happy to work around your suggested itinerary.
Tours to your favorite Tanzania destinations
We also offer car rental with driver/guide to tailored travelers to Serengeti National Park, Lake Manyara, Ngorongoro Arusha, and Tarangire, among others on special requests where we can.
We offer car rental with driver/guide or chauffeur throughout East Africa including Tanzania, Kenya, Uganda and Rwanda.
The Car rental with driver/guide is organized with your very own professional  local driver who has comprehensive knowledge of the various places you might want to visit.
Contact us for a quotation: rent@carrental4x4.com