SAFARI VEHICLE FOR 6DAYS KENYA GAME DRIVE AND WILDLIFE TOUR
THE OVERVIEW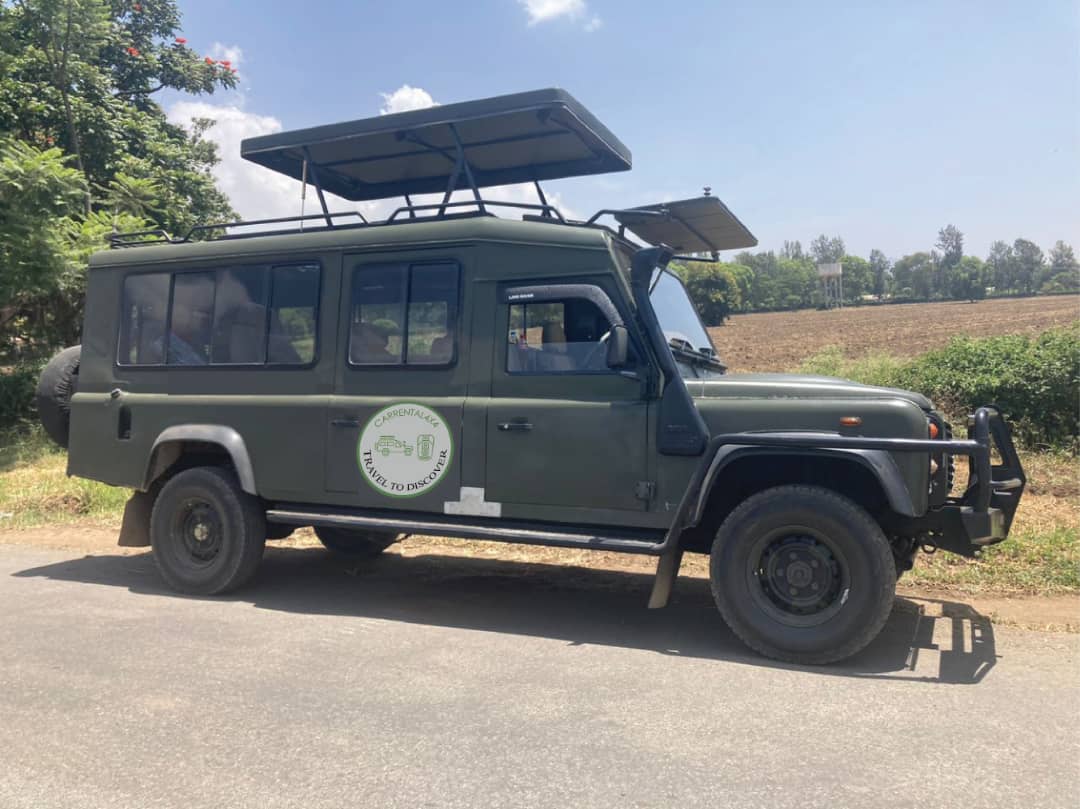 Safari vehicle with a guide/driver for 6-day Kenya safari vacation begins with a pick-up from Mombasa and transfer to Tsavo East
National Park, with a short drive to Tsavo West National Park, game drives in Amboseli National Park,
and finally a tour of Lake Nakuru National Park before concluding in Nairobi. This tour will take you to
see Kenya wildlife and magnificent birdlife. It offers excellent photographic and filmmaking
opportunities, allowing you to capture incredible images and photographs of Kenya principal wildlife
species. You will also get the opportunity to observe all of the Big 5 as well as other species.
The highlights of the 6 days Safari with a driver-Guide
Searching for big five animals
Scenic drives
Unlimited game drives
Viewing big herds of Elephants
Observing the rift valley escarpment
Exploration of Mzima Springs
View flamingos
Detailed Itinerary
Day 1: Transfer from Mombasa to Tsavo National Park East
After a leisurely breakfast, you will be picked up by our driver from your pre-lodge and driven 5 hours
and 200 kilometers to Tsavo East National Park along the scenic Mombasa-Nairobi Highway, passing
through farmland and rural Kenya. You will arrive at your pre-arranged hotel for lunch and relaxation.
Tsavo East National Park, is the location for stories of fearsome lions. There are a plethora of species to
be found in its vast, untamed area. The Galana River flows across the park, dividing this red-dirt savannah
with its lush green flora. All other watering holes in the park provide extra opportunity to witness
elephant, buffalo, ostrich, and baboon.
In the afternoon, you will go on your first game drive in this enormous park, which is home to all the Big
Five. There are elephants, Cape buffalo, lions, giraffes, gazelles, zebras, leopards, ostriches, and other
rare birds to see. Wildlife watching chances abound in the beautiful Savannah terrain. After the game
drive, you will return the lodge for dinner and a night sleep.
Meal Plan: All meals are included
Day2: Game drive in Tsavo East National Park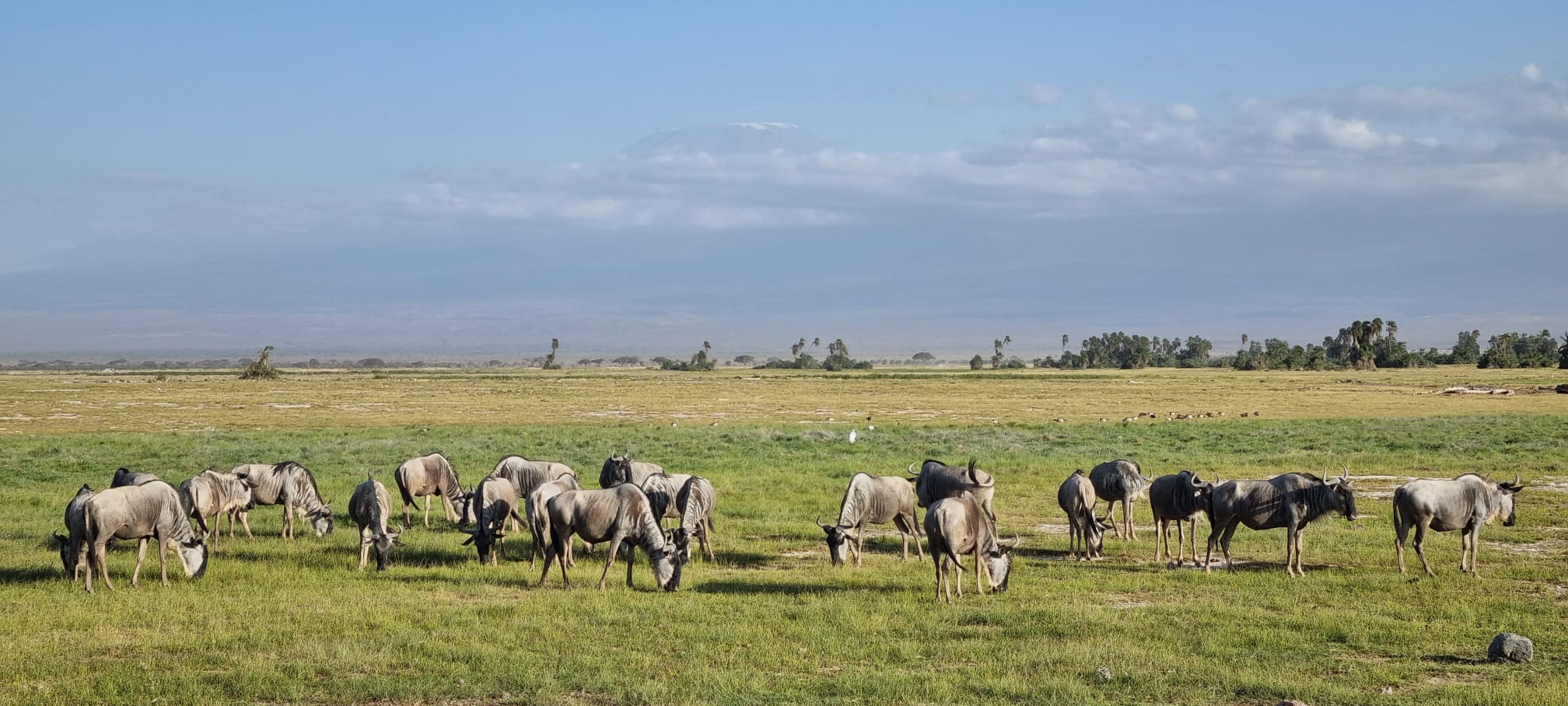 You will spend the entire day seeing Tsavo East National Park after an early breakfast. The Galana River
in Tsavo East is home to a variety of wildlife, including Nile crocodiles and hippos. Kudus, waterbucks,
reedbucks, and dik-diks can also be found along the river.
Tsavo East National Park is home to the notorious Man-eaters lions. The creatures battered hundreds of
railway workers in this park in 1900. Large herds of elephants move from Tsavo West National Park, and
the park vast bird population comprises 500 recorded species. Explore the Aruba dam, where animals
congregate in search of waters. After the game drives return to your lodge for dinner and overnight stay
Meal Plan: All meals are included
Day 3: Transfer from Tsavo East to Tsavo West
Rise up early for breakfast before being driven to Tsavo West National Park, a 1 and half-hour journey
away. Check into your lodge for some downtime and lunch upon arrival.
Go for afternoon game drive in the Tsavo West National Park. Tsavo West is a breathtakingly beautiful
and rugged landscape. The grassland ecosystem contains open grasslands, scrublands, and Acacia woods,
as well as riverine vegetation belts and rocky heights such as the Poacher Lookout, from where tourists
may see the bustling animals over the plains below. Tsavo West National Park features some of the best
game watching in the world, including elephants, rhinoceros, hippos, lions, cheetahs, leopards, and
buffalos.
Visit the park most famous attraction in safari vehicle with  Guide, Mzima Springs, where fish, big crocodiles, and some large hippos
reside in dazzling, transparent springs. With the opportunity to view life in the pool depths through the
underwater glass observation chamber. Take unusual photos, such as gliding Nile crocodiles or
hippopotamuses floating on tiptoe, along with thousands of fish with a primitive appearance. After this
exciting day, you will return to your lodge for dinner and a night rest.
Meal Plan: All meals are included
Day 4: Transfer from Tsavo West to Amboseli National Park for an afternoon game drive
After breakfast, you will enter your safari vehicle and depart for Amboseli National Park via the Shetani lava flow, a region of folded
black lava from an eruption assumed to have occurred about two centuries ago that is now home to
klipspringers and rock hyraxes. Shetani means devil in Swahili, which explains how the early
residents felt as they watched the lava flow across the country. You will arrive in Amboseli in time for
lunch, settle into your lodge, and rest.
In the afternoon, undertake an afternoon game drive in this magnificent national park. Amboseli National
Park is mostly arid and little vegetated, but its best feature is its lush wetlands, where massive herds of
elephants congregate adjacent to Mount Kilimanjaro, which is distant and snow-capped. Large predators
including as lions, leopards, hyenas, and cheetahs live in Amboseli, as do their prey such as buffalo,
giraffes, zebras, wildebeests, Impalas, ostriches, gazelles, and waterbucks. You will also enjoy the
region diverse birdlife, particularly raptors. Return to your lodge for dinner and a good night&sleep.
Meal Plan: All meals are included
Day 5: Transfer from Amboseli National Park to Lake Nakuru and do evening game drive
After an early breakfast, you will embark on a drive to Lake Nakuru National Park, which ought to
require approximately seven to eight hours to reach and with en-route lunch. Check into your
accommodation upon arrival for some leisure and refreshment.
Explore the park in the evening to seek for Rothschild giraffes, Black rhinos, White rhinos, Cape
Buffalos, Leopards, Zebras, Impalas, Lions, Olive baboons, Hyenas, Gazelles, Waterbucks, and other
species. You'll observe a dazzling diversity of birds as you drive around the salty shores of Lake Nakuru.
Lake Nakuru was named a national park due to its high flamingo population. In addition to the flamingos,
you may expect to observe large groups of pelicans, cormorants, egrets, herons, ibises, ducks, Spoonbills,
Fish Eagles, and Kingfishers. After exploring the park, return to your lodging to unwind, eat, and sleep.
Meal Plan: All meals are included
Day 6: Transfer to Nairobi for departure flight
After having a relaxed breakfast, you will take a short drive to Nairobi city then eventually to the
international airport for your scheduled flight back home depending on the time of your flight. Bringing
this  this 6days Kenya safari with a driver-guide to a close