19 Days Uganda Safari, Rwenzori trek, & chimpanzees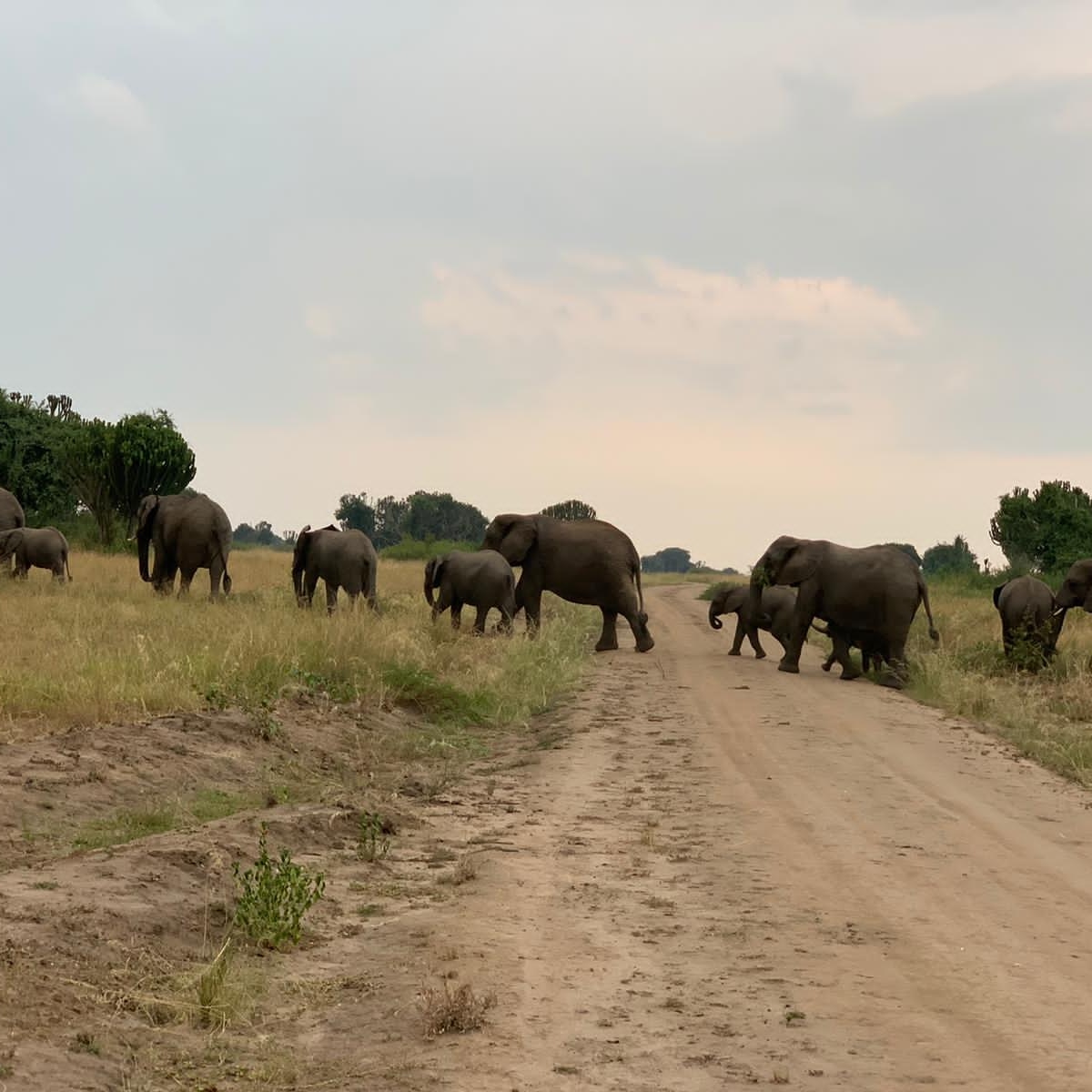 19 Days Uganda Safari. Join a 19 Uganda Self Drive safari for a Rwenzori trek, Wildlife, Gorillas & Chimp tracking in Uganda National Parks
Join this 19-days Uganda self-drive safari for the best Rwenzori hike, wildlife, gorilla, chimpanzee national Parks in Uganda. Explore the wonders of Uganda's breathtaking Murchison Falls nation al Park, Kibale forest national Park, Rwenzori Mountain National park and the famous Bwindi impenetrable Forest national Park. This is the perfect tour for those who want the best possible value rental car to experience magical Uganda gorilla trekking, Rwenzori mountaineering, chimpanzee trekking, Wildlife experience and White water rafting in Uganda.
Day By Day Itinerary For a 19 Days Uganda Self drive Safari
Day 1 Arrival in Entebbe/Kampala
According to your arrival, you will pick your self drive car rental at the Entebbe international Airport from our company representative , who will also present to you your gorilla & chimpanzee permits (incase you trust us to book them for you)  as well as your detailed itinerary.  Continue to your hotel so as to relax after your flight.
Otherwise, in case you arrive early, you can go on a city tour to visit some of Uganda's impressive attractions including; Kabaka's palace, Gadaffi's mosque, the Bahai temple, the central market of Owino, Nakasero market, the Kasubi tombs among others.
Return to the Lodge for dinner and an overnight.
Day 2: Drive to Murchison Falls National Park via Ziwa Rhino Sanctuary for Rhino tracking
Wake up early to a tasty breakfast, and after head for Murchison falls National Park with an en-route drive to Ziwa Rhino Sanctuary for Rhino tracking and Lunch in Masindi. Arrive in your accommodation at the park in the evening for dinner and an overnight.
Day 3: Morning Game Drive and afternoon Boat Ride
Today you will drive for your early morning game drive after your breakfast to spot the impressive wild animals of the big five including the Lions, Buffaloes, Elephants, and the Leopards. Certainly you also have great opportunities to spot other game like zebras, antelopes, the kobs, giraffes. Return to your accommodation for lunch and after proceed for a boat ride to the bottom of Murchison falls along river Nile, where you  will spot hippos, crocodiles, water birds and  various species of birds such as kingfishers, bee-eaters among others
Day 4: Drive to Kibale National Park
With a god breakfast treat, Start your day with an early morning game drive to find the early morning risers including as lions, leopards, hyenas and numerous bird species , after which you will continue for a 7 hours drive to Kibale forest National Park. You will arrive at the park in the late evening and connect to your lodge for dinner and overnight stay.
Day 5: Chimpanzee Tracking
Start 5th day  of the 19 days Uganda Safari with breakfast and after connect to Kanyanchu visitors center chimpanzee trekking briefing, before or after 8:00am.  After here, with a ranger guide, you will head to the jungle to look for the chimpanzees. Chimpanzee trekking and tracking takes about 2 to 6 hours with an inclusive 1 hour spent interacting with them, as you watch them do their daily chores such as feeding their young ones, climbing from one tree branch to another.
Return to your lodge for lunch, a long afternoon rest and overnight rest.
Day 6: Transfer to Kasese-  Nyakalengijja
After a relaxed breakfast, set off and drive to Rwenzori national park, reaching Nyakalengijja in time for lunch. check in your hotel, enjoy your lunch and after head to Rwenzori Mountaineering Services head offices for registration. Dinner and overnight stay at your lodge.
Day 7: Nyakalengijja to Nyabitaba
As your first experience, you will  head to Rwenzori Mountaineering services headquarters at ibanda for clearance,  meet your Rwenzori mountaineering guide, porters, with whom you proceed with a warm up trek to the Mount Rwenzori national park's main gate for registration. Climb through the Bakonjo settlements and plantations. Your central circuit trail hike starts from the main gate, right after registration to Nyabitabba hut at 2652m, for an estimated time of 6-7 hours.
Day 8: Nyabitaba to John Matte
Climb from Nyabitabba to John Matte, after breakfast. Cross over Kurt Schuffer bridge, that's between Bujuku and Mubuku river, after when you will continue climbing over slippery moss covered and steep rocks a long with bamboo mixed with montane forest.
The forest has several bird species that you might see as you climb through the forest, and proceed up Nyamileju rock shelter, where you will rest for lunch break as you enjoy impressive views of mount Stanley and speke(only on a clear day). Continue to john Matte hut through the alpine forest, arriving at at the hut in the afternoon, relax and wait for dinner, as you wait for next day's briefing and an overnight stay.
Day 9: John Matte to Bujuku Camp
After an early breakfast, you will cross the Bujuku river to the bigo bog region. Follow the steep path to the upper bigo bog, after which you will reach the drier ground upto Lake bujuku. Enjoy the beautiful views of Mount Stanley to the west, Mount baker to the south and speke to the North. Arrive at Bujuku camp at 3.962m, after 4-5 hour walk. Dinner, next day briefing and an overnight stay.
Day 10: Bujuku Camp to Elena
You will spend your day trekking for about 6-7 hours from Bujuku hut to Elena hut. Although the hut is situated within the cold, rocky region of mount Stanley, you will trek via the upper bigo bog, and continues through the steep slopes of Lake Bujuku to the West as you ascend to the 4372m Scott-Elliot pass. Continue with the trek, passing by numerous swamps as well as the spectacular ground gully. You will walk through the steep sections above the gully by using a metal ladder reaching a junction with two divided trails, with the right one heading to the Elena Hut, ascending through a steep  trail above the large boulders to Mount Stanley  while the left trail leads to the Scott-Eliiot pass as you slope to Kitandara  hut. Reach Elena hut in the afternoon, and enjoy the spectacular views of Mount Baker and Mount Speke, which is sometimes hard to see due to fog. Dinner and an overnight at the hut.
Day 11: Elena hut to Magherita peak to Kitandara
Wake up at 2:00am, for breakfast, and continue on your hike to the top of Magheritah peak starting from 3:00am. Climb through the Stanley plateau to the top of Mount Stanley. Using ropes, crampons and the ice ax (as directed by the guide) you will climb  the steep rocky regions. This may last for a couple of hours, after then you will arrive at the bottom of Margeritah glacier-the most challenging part of the 7 days Rwenzori central circuit trekking experience. Proceed to the top of the peak of Mount Stanley (Magheritah Peak) at 5107m.
While at the peak, enjoy the impressive views of Lake Ireen, Mount Speke and the surrounding environment, and later on descend to Elena hut for lunch and later continue with your trek to Kitandara, through the Scott Elliot pass (also considered as the most beautiful spot of Rwenzori). Dinner and an overnight at Kitandara hut.
However, depending on your group's strength, you may opt to spend another night at Elena Hut, and continue the next day to Kitandara then to Guy Yeoman.
Day 12: Kitandara to Freshfield pass to Guy Yeoman
Today you will Spend 6-8 hours trekking along the base of mount baker which is quite slippery. climb steeply up the headwall, that spans from the base of Mount baker, as you heads towards the southern side of Mountain Rwenzori to the Fresh field pass. Proceed with the long stretch of the muddy trail, trekking through the Kabamba, Akhendahi and rock shelters of Bujongolo-the base camp for the historic expeditions by Duke of Abruzzi in 1906. Continue with your trek following the Kabamba trail and later on reach Guy Yeoman, which is established at the banks of river mubuku. Dinner and overnight at the hut.
Day 13: Guy Yeoman to Nyabitaba to Nyakalengijja
On this last day of your Rwenzori trek, you will slope to Nyabitaba hut, after breakfast. You will walk through the Bamboo Forest as you enjoy the beautiful flowers and plants, bamboo forests and Kinchuchu and Mubuku Rivers, as well as the Kabamba falls. Arrive at Nyabitaba hut after a 4 hours' walk, after then you will briefly spend 40 minutes visiting Lake mahoma. Return to the hut after Lake Mahoma exploration and your trek to Nyakalengijja where you will pick up your car and drive back to your hotel.
 Day 14 Nyakalengijja to Bwindi national Park
Enjoy a relaxed breakfast, check out of your lodge and drive to either Nkuringo or Rihijah gorilla trekking sectors in the southern part of Bwindi Impenetrable National Park. Reach early at your lodge for a hearty lunch. Later on visit the Batwa for an exclusive cultural experience. Dinner and overnight at the hotel
Day 15: Gorilla Trekking Experience
Head for  briefing about the rules and regulations of Gorilla trekking and tracking. By the help of a ranger guide, leave for the search of gorillas in the forest. Gorilla trekking lasts between 2 to 8 hours, with an inclusive 1 hour of getting up close with gorillas. Return to the headquarters for lunch and along afternoon rest.
Day 16: Return to Kampala for a city tour
On this day, you will return to Kampala with enroute stop overs for lunch and at the equator for photography. You can also buy some souvenirs from the crafts shop. Reach in Kampala in the afternoon, and later on check in your hotel. Incase you arrive early, you can explore other surbubs of Kampala, go to the nearby clubs, or tour the entire city. Return to the lodge for dinner and an overnight stay.
Day 17: Transfer to Jinja with en-route visit to the Sezibwa Falls,  and the source of the Nile
Travel to Jinja, with enroute visit to Sezibwa falls, and visit the source of the Nile to enjoy the breathtaking vistas of River Nile. Proceed to your hotel for dinner and an overnight.
Day 18 Full day White Water Rafting and return to Kampala.
Proceed for a full day white water rafting along the Nile River, where you will enjoy an all-inclusive and memorable experience. Wind up your day with a babeque get together party, and later travel back to your Kampala hotel for dinner and overnight stay.
Day 19: Departure
Proceed to Entebbe  to catch up with your late night flight to your country.and thats makes the end of the trip.