Toyota Hilux double Cab Hire Tanzania, Kenya, Uganda, Rwanda
Toyota Hilux Double Cab Pick Up Rental Tanzania, Kenya, Uganda, Rwanda. carrental4x4.com offers 4×4 Toyota Hilux Double Cab in East Africa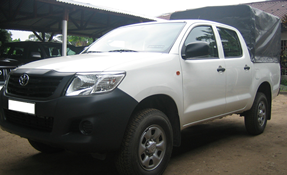 4×4 (4WD) Hilux: Looking for a 4×4 (4WD) Toyota Hilux pickup for a business or camping trip? The 4×4 Toyota Hilux is the most perfect 4×4 rental car for both camping safari trips and project management. The vehicle is ideal for 2-4 passengers with enough luggage space.
The 4×4 Toyota Hilux provides a balance between comfort and economy. It also offers urban and off-road capabilities. The Toyota Hilux is strong and relibale enough to cater for your leisure travels while in Kenya.
The Car offers Comfort, luxury and rugged durability in equal measures which guarantee a smooth, safe and enjoyable ride – wherever you may feel like driving whilst in Kenya.
Exclusive suspension and outstanding 4×4 abilities ensure exceptional driving pleasure, whatever the terrain. You can't go wrong with the This amazing Toyota Hilux, you can safely cruise along both the tarmac and tough highland roads without worrying too much about the next gas station.
Why Rent a Toyota Hilux Double Cab for your holiday or Safari?
The 4×4 Toyota Hilux offers extra comfort during your self drive or camping safari in East Africa. The cars have high ground clearance due to the big Wheels, A/C, and a large canopy for easy access for camping gear as well as the luggage.
The Double cab is more flexible and offers more comfort for its passengers when navigating the asphalt roads which is much different from the Toyota Land cruiser, which can be a bit bumpy and noisy when driving at high speed.
The Hilux double cab comes with; 5 seats (but comfortable for 4 pax with camping gear & luggage), manual transmission, 80 liter tank capacity, 7-8 km/l, 4WD, 1 spare tyre, no pop up roof, Air conditioning, radio with small speakers & USB & Audio Port, wheel spanner, towing rope, jumper cables and jack.