Toyota Rav4 Rental Uganda, Rwanda, Kenya, Tanzania
Toyota Rav4 Rental Uganda, Kenya, Tanzania, Rwanda East Africa. carrental4x4.com offers comfortable 4×4 Rav4s with enough storage space and high Capability.
The Toyota RAV4 is an excellent 4×4 rental car for your off-road adventures with your family and friends.
Whether you need a Toyota rental for your next self drive road trip in East Africa Rwanda, Uganda, Kenya, Tanzania we'll help you find the perfect SUV Toyota RAV4 suitable for your travel needs.
Our 4×4 Toyota Rav4 SUV Car rentals Features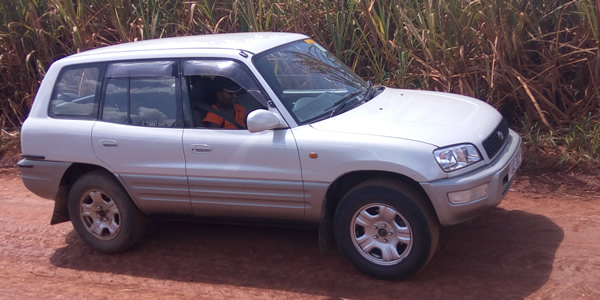 For those looking for a SUV with comfort, cargo space and high capabilities the Rav4 is a smart choice for car rental from Car rental 4×4. Our Toyota Rav4 are spacious enough, which makes it an ideal rental car for a variety of travels in Rwanda.
With a RAV4 you can easily handle high fuel efficiency. Our Rav4 features USB port to plug in your phone device.
With a RAV4 car rental from Car rental 4×4 you are getting a vehicle that offers a winning combination of safety, economy, comfort and ideal performance. Browse our website to find the best quote on a Toyota RAV4 rental car, as well as our other deals and discounts.
Why rent a Rav4 in Uganda, Rwanda, Tanzania and Kenya?
Car rental 4×4 Rav4s are perfect for long distance safari travels. They contain a fuel tank takes about 60 litres of gas, which is best suited long distance travels of about 650-700km depending on the terrain type
Its 4WD (4×4) capability renders it ideal for self drive safaris, as it can navigate through the rough, rugged, dirt African roads as well as some steep slope.
The Toyota Rav4 is a compact SUV with enough luggage space with ultimate great power compared to other suvs.
Our Rav4s come with a comprehensive insurance, Uganda road map, unlimited mileage, first aid kitbox, 24/7 roadside assistance, car Jack and great insider travel tips.
Other 4×4 Toyota Rav4 Hire Fleets For Hire