Toyota Hiace Van Rental Africa

Toyota Hiace Van rental: carrental4x4.com hires out serviced Toyota Hiace Van for 7-14 sitters for business trips, airport transfers, safaris.
we rent out the best Toyota hiace for all your transport requirements. We hire out 7 seater hiace, 8 seater hiace, 9 seater, 10 seater, 11 seater executive vans, and 14 seater economy vans respectively in Tanzania, Kenya, Rwanda, Uganda.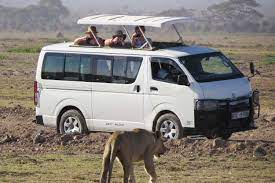 Our Toyota hiaces are best suited for group travels, family travels, transporting clients, road trip vacations, cooperate travels, and also Airport transfers from Airports to your hotel including Jomo Kenyatta, Entebbe, Kigali, Kilimanjaro, Dar-es-salaam.
We also personalize seating arrangements on special requests, that match our clients travel requirements. The Toyota Hiace also comes with great leg-room for each passenger.
The Toyota Hiace on hire are available for driver guided options, yet they are also economical in fuel consumption.
The Toyota hiace safari vans contain an ideal engine capacity of approximately 2000cc, which makes them suitable for long distance travels, even to the remote regions.
Why rent a Toyota Hiace Van Rental?
The Toyota Hiace Safari van is spacious enough to provide ample seating for all travelers.
Car rental with a driver guide service. We charge $35/day for all our chauffeur services which includes meals and accommodation, whereas overtime will be $10 days for the next 3 hours.
Rental Conditions
In order to hire a vehicle, you must be between ages of 23 and 70 years of age and be a holder of a valid international driver's permit for the past 2 years and have no endorsements
A copy of your passport, driving license, full contact details and a full advance payment for the period of hire will be required before or on collection of vehicle. Additional cash deposit may be required under certain special circumstances.
All rates are inclusive of Taxes
All rates are exclusive of fuel
Special monthly and long term rates available on request
Rates subject to terms and conditions of our car hire contract
The Toyota Hiace has been built to help you get the job done in style. It's strong, reliable and designed to keep its value better, for longer, whichever grade you choose. Inside the cabin, you'll find a range of handy storage spaces, map lights and a USB port[G10] for whatever your needs.
Redefined exterior
Function meets form with a new and improved semi-bonnet design that improves both safety and driver comfort of one of Australia's most iconic vans.
Easy access
Getting in and out of the cab is now easier than ever thanks to a lower, wider front doorstep on both the driver and passenger side.
Room for your gear
For maximum space and convenience, HiAce LWB van fits up to 6.2 cubic metres of cargo. For even greater carrying capacity, the SLWB van comes with 9.3 cubic metres of cargo space.
Better protection all round
We've re-engineered the exterior frame to help absorb the initial shock associated with a collision. Not only is this designed to protect you, it is also designed to reduce the damage to whatever's in your cargo area.