Land Rover Defender For Hire in Tanzania, Kenya, Rwanda & Uganda
Land Rover Defender. carrental4x4.com offers 4×4 Land Rover Defender for hire in Tanzania, Kenya, Rwanda & Uganda with a rooftop tent or Pop up Roof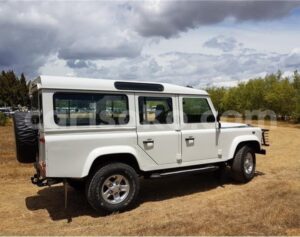 Car rental 4×4 hires out reliable and comfortable 4×4 Land Rover defenders for safaris in Tanzania, Uganda, Kenya and Rwanda. We offer 4×4 Land rover defenders for self drive or driver guided safaris as well as camping safaris.
Hire a 4×4 Land Rover Defender to explore the spectacular National Parks of Serengeti, Ngorongoro Conservation area, Lake Manyara, Tarangire, Masai Mara, Lake Nakuru, Lake Naivasha, Amboseli, Aberdare, Mombasa Marine park, Samburu, Nairobi, Kidepo valley, Queen Elizabeth, Lake mburo, Murchison Falls, Semuliki ,Bwindi Impenetrable, Saiwa Swamp National Park, Sibiloi National Park, Ruma National Park, Ol Donyo Sabuk Naional Park, Ndere Island National Park, Mt. Longonot National Park, Mount Elgon National Park, Meru National Park, Tsavo East National Park, Marsabit National Park, Kora National Park, Chyulu Hills National Park, Central Island National Park, Tsavo West National Park and Kibale Forest National Park among others.
The fully kitted 4×4 Land Rover for hire in Uganda, Kenya, Tanzania and Rwanda is an ideal holiday rental car for all safaris and is perfect for all road conditions.
We meticulously offer well maintained selection of 4×4 safari Land rovers with pop up roof or roof top tent along with other car rental services of camping gear, long term car rental and one way car hire.
Why We Recommend a 4×4 land Rover Defender in East Africa for A Safari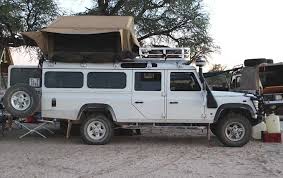 Land Rover Defenders are Extensively modified for exploring the amazing attractions in East Africa. The 4×4 car is highly is dependable, strong and tough enough for all road types, as well as crossing the river, and comfortable enough for full day wildlife watching!
The 4×4 Land Rover is spacious enough with 5 comfortable widow seats, but can easily seat 8 passengers
Seating: The vehicle seating is designed to guarantee each and every guest gets the best, most comfortable safari experience possible. The seats can also be lowered for better wildlife viewing during game drives.
The Land rover Defender is equipped with features including air conditioning, 5 doors, Manual transmission, pop up roof or rooftop tent, unlimited mileage.