4×4 Nissan Patrol Rental Tanzania, Kenya, Rwanda, Uganda East Africa
4×4 Nissan Patrol Rental East Africa: Car Rental 4×4 hires out well services 4×4 Nissan Patrol cars in Tanzania, Kenya, Uganda & Rwanda.
Nissan Patrol rental car is a stylish , comfortable , reliable and affordable 4×4 car hire , that can make you feel refreshed on your road trip with a driver or self drive safari in Kenya, Uganda, Tanzania & Rwanda.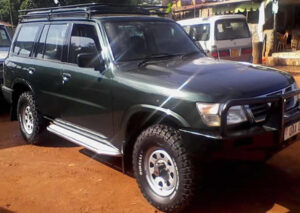 Car Rental 4×4 provides its travelers with high quality Nassan patrol rental cars which are kept in good technical condition.
Our 4×4 Nissan Patrol rental car comes with comfortable interior and beautiful exterior which suits those who need a strong car to meet their travel goals
carrental4x4.com provides a fast & easy search for your favorite Nissan patrol vehicles in Kenya, Tanzania, Rwanda & Uganda destinations such as Masai Mara, Serengeti, Arusha, Dar-es Salaam, Ngorongoro Conservation Area, Zanzibar, Moshi, Nairobi, Mombasa, Nakuru, Eldoret, Malindi, Kisumu, Kampala, Kigali etcetera…
The Nissan Patrol is also best suitable for both long and short journeys which is the most comfortable way to ensure low expenses and safety during your Kenya trip or Tanzania.
When renting a Nissan patrol car in East Africa from carrental4x4.com, you needn't worry about the technical condition of the car because it will be flawless. Nissan is the best choice for both urban and remote areas, taking into account its fuel economy. The car is equipped with the 1.6-liter engine and automatic transmission.
It is designed for five passengers who may not experience discomfort while driving on East Africa's gravel or tarmac roads. Nissan has good traction and will delight you with its stability on the highway.
We offer multiple Nissan patrol rental cars at reduced prices, and there are no hidden charges. Our customer support operates 24/7 to help you with Nissan rental in Kenya.
How much does it cost to rent a 4×4 Nissan Patrol in East Africa?
The average Nissan car rental price without a rooftop tent, driver, and fuel, East Africa's cost starts from $80 per day. You will also find both a lower and a higher rate, because it depends on many factors. The most important of them is the vehicle year. The cheapest Nissan patrol rental is available at $80 per day. On the other hand, you can rent a Nissan of higher class such as a luxury or premium for the price of $180 per day. The higher the class of a car, the higher the price.
Other factors that affect the price are the specific season of rental, duration of rental period, and location. It always makes sense to check other Nissan Patrol rental car locations Uganda, Rwanda, Kenya and Tanzania- Airport in order to find the best price.
Where to rent a 4×4 Nissan Patrol in East Africa?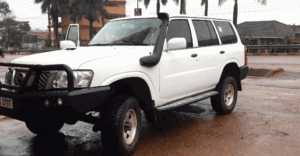 You can pick up Nissan Patrol rental in any comfortable location such as Jommo Kenyatta international airport, Kilimanjaro International Airport, Kigali international airport, Entebbe International Airports among others. In addition to a pick-up, East Africa, it's possible to rent Nissan patrol Cities or towns such as  Nairobi, Mombasa, Arusha, Zanzibar, Kigali, Kampala, Entebbe, Serengeti, Ngorongoro Conservation area, or take advantage of city downtown locations or hotels.
To ease your Nissan Patrol rental search in Kenya, rent your 4×4 car from self-drive Kenya, check out the best Kenya Airport locations, and find the best place to pick up your Nissan Patrol rental car for your next trip.
If you haven't found a suitable model of Nissan Patrol in your area, we can find you alternative offers – from mini and economy Land Cruiser cars to full-size vehicles and SUVs, from luxury to budget car models..
FAQs about Nissan Patrol rental
What rental car companies rent out Nissan in Nairobi?
When inspecting the list of Nissan cars in East Africa – the choice of agency to deal with plays one of the most significant roles. A good supplier like Car rental 4×4, is a key to a trouble-free road trip, while a company with a bad reputation can ruin your vacation. We gathered only reliable suppliers, which will do their best to make your trip pleasant and easy.
Nissan Patrol for hire in East Africa is the best way to explore any part of Kenya. From city tours to wildlife tours, the Nissan Patrol offers the best comfort on the road for a memorable tour in East Africa.
The Nissan Patrol for hire is fully serviced, comprehensively insured, and in good condition to offer the best road trip experience in East Africa. Our Nissan Patrol comes with an experienced driver to take you in your adventure tour in Kenya, Tanzania, Uganda & Rwanda.
SERVICE OFFERED With NISSAN PATROL
Point to point service
Dedicated Driver Guide
Airport transfer
Long term Car rental
One way Car Rental
Car Rental with Camping gear & Rooftop Tents
In order to rent a Nissan patrol for your safari or business trip, Contact us or send us an email: rent@carrental4x4.com or call us now on +256-777131912 / +256-701893844 to speak with the reservations team