3 DAYS OF GOMBE STREAM WILDLIFE AND CHIMPANZEE TRACKING SAFARI IN TANZANIA
The overview wildlife and chimpanzee tracking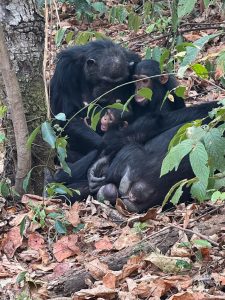 This 3-day wildlife and chimpanzee tracking tour in Gombe National Park offers visitors to Tanzania's only chimp trekking location: Gombe Stream National Park is located in western Tanzania on the shores of Lake Tanganyika. This wonderful national park is home to chimps, various bird species, and other animals. Gombe National Park is well-known for hosting the first habituated chimps in Africa, which explains why it's a favorite chimp trekking destination. on 3 days of wildlife and chimpanzee tracking Aside from chimp trekking, other optional activities one can do during this safari are hiking, birding safaris, and nature excursions. Colobus monkeys, vervet monkeys, baboons, and bush pigs dik-diks can also be seen at Gombe. Gombe National Park is accessible via Kigoma, Tanzania's western province's regional headquarters
Detailed Itinerary
Day 1: Flight from Dar es Salaam to Kigoma and then to Gombe stream
After an early breakfast, you will be transferred to Dar es Salaam International Airport for the flight scheduled to Kigoma. Pick up at the airport and transfer to Ujiji Town. Before moving to Kibirizi port for the boat voyage to Gombe National Reserve. You will have lunch and some rest
In the afternoon, go to the park headquarters for a briefing on chimp tracking in the jungle. Explore the stream with a professional park ranger guide who is familiar with monkey habits, body motions, and the best trekking routes. Although there is no time limit for tracking the chimps, the duration is determined by their movements.
Other primates, birds, lions, elephants, buffalo, giraffes, and antelope are likely to be observed along the way. Examine the chimps' natural habitat, eating habits, and disposition. You will return to the lodge for dinner and overnight stay.
Meal plan: All meals are included
Day 2: Chimpanzee tracking and other wildlife viewing
After breakfast, you will go chimp tracking in the jungle. Gombe became well-known for the conservation effort founded by Jane Goodall, who arrived in Gombe in 1960.
Aside from chimps, other primates found in Gombe Stream's tropical forests include velvet monkeys, Colobus monkeys, and baboons. You will also see the Kikombe waterfalls, which are one of the park's natural attractions and ascend Jane's Peak for a breathtaking perspective of the park.
You'll head back to camp for dinner, relaxation, and an overnight stay.
Meal plan: All meals are included
Day 3: Boat transfer back to Kigoma town and domestic flight back to Dar es Salaam
After a leisurely breakfast, you will be picked up and transferred by boat back to Kigoma town. Transfer to the airfield for the scheduled flight back to Dar es Salaam international airport or to Arusha for other safari destinations on request, bringing this wildlife and chimpanzee tracking safari to a close.
Meal plan: Breakfast
Inclusions on 3 days wildlife and chimpanzee tracking
Park entry fee
Activities and game drives mentioned above
Domestic flight transfers
Full board accommodation
A professional safari driver/guide
Transportation within the Safari days
All taxes and VAT
Meals
Water, coffee, tea, and soft drinks
Exclusions
Flights to other countries
Additional lodging before and after the tour
Visa to Tanzania
Gratuity
Personal Expenses (such as laundry, phone calls, and beverages)
Meals not mentioned above
Tax and/or park fee increases implemented by the government
Brief Information about Gombe stream National Park
Gombe National Park, also known as Gombe Stream National Park, was established in 1968 and is located in the western part of Kigoma in Tanzania, near the borders of Tanzania and Congo. It is the smallest of Tanzania's national parks, covering only 35 square kilometers on the northern shore of Lake Tanganyika. The chimps are the main attraction of Gombe National Park, but there are also other primates such as blue and red tailed monkeys, as well as vervet monkeys, as well as around 200 kinds of birds, warthogs, snakes, leopards, fish, and hippos. Gombe national park is surrounded by natural vegetation including meadows, woodland, and tropical forest, as well as steep valleys, making it only accessible by boat.
Gombe was originally discovered in 1943 for its wonderful natural scenery. It was initially designated as a game reserve, but gained popularity and fame following Dr. Jane Goodall's research activities within the national park in 1960 to study the behavior of Chimpanzees, which later cheered it to be upgraded to the level of a national park in 1968, with its gates opening up for various tourism activities that same year.
The natural attractions in Gombe include:
The Kakombe waterfall which is strategically positioned within the Kakombe Valley and is fed by the Kakombe stream. The waterfall cascades 20 meters down the cliff. All surrounding the woodlands with abundance of fig trees, not to mention the ideal site to see chimps and other monkeys. When you visit the Kakombe waterfall, you will fall in love with it.
The waterfalls of Mkenke.
The captivating mists falling over and legitimately would just make you still and quiet, making it a must see waterfall that might spice up your adventure within Gombe national park.
Jane's Peak: Named after Dr. Jane Goodall, Jane's Peak is located in the Gombe Hills. Jane's Peak used to be the ideal location for her to take her time and observe chimps in their natural habitat without causing any distractions that could make them scared or move away. The summit continues to provide tourists with a beautiful vantage point for observing chimps and other monkeys.
Gombe Stream Research Centre:
This facility is located near the Kakombe waterfalls. Because Goodall's study, including the data she collected, is still of great value to scientists today, the research stream center was established to provide coordination with the numerous research operations taking place within the park.
Lake Tanganyika
is the world's second-deepest (1447m), second-largest by volume, and longest freshwater lake, shared by four countries: the Democratic Republic of the Congo, Burundi, Tanzania, and Zambia