Camping Gear(Equipment) Hire in Rwanda, Rent A Car W/Camping Gear
Camping Gear(Equipment) Hire in Rwanda: Rent a car w/camping equipment in Rwanda: Kitchen Utensils, Chairs, tables, form mattresses, First Aid kit,gas cylinders.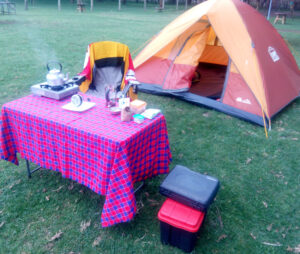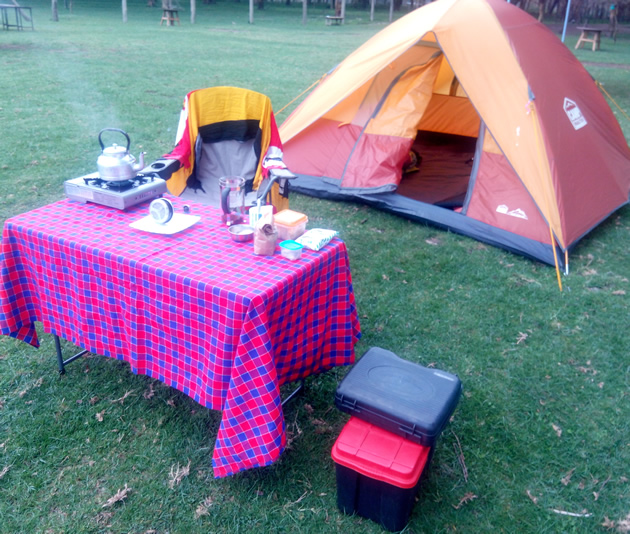 Camping Gear Rwanda:Car Rental 4×4 hires out 4WD/4×4 Cars fully equipped with camping gear including a roof tent with mattresses, pillows, table and chairs, full kitchen equipment and cutlery, saucepans and pans, electric refrigerator (at an additional cost), gas cylinders, barbecue nets, tool box, fire extinguisher, first aid kit, storage box, etcetera.
Want to go camping in Rwanda with enthusiasm, but just don't know how to start? In order to make everyone more comfortable for your camping experience, Car Rental 4×4 provides you with the camping gear for rental. With the camping vehicle, you will be far away from the hustle and bustle.
Driving through Rwanda, becomes even more fun when you go camping with all the equipment you need to spend the night in the middle of Nature!
Self drive Safari Camping Gear/Equipment in Rwanda
Rwanda Self-drive Safaris and camping can be a more affordable way to travel, as well as allowing you to get up-close with nature. Rwanda has limited camping sites, throughout the country.
Car Rental 4×4 is the perfect solution for camping car hire in Rwanda. We offer a complete range of camping equipment for all our 4×4 rental cars. Our top of the range equipment will provide all that is needed for an exciting, and comfortable journey.
Camping Car Hire, 4×4 Cars for Camping in Rwanda

Car Rental 4×4 hires out a top-of-the-range vehicles ranging from Toyota Rav4, Toyota Land Cruisers, Toyota Hilux, Safari Land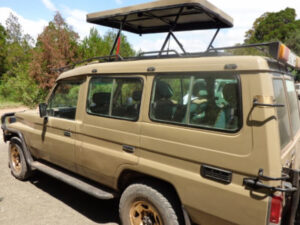 Cruiser, Mini-buses to all-terrain 4X4s, with or without camping gear. Our vehicles and camping equipment are offered at excellent rental prices.
Our 4wd/4×4 Land Cruisers are ready to explore Rwanda, and come fully equipped with everything you need to go camping in safety and comfort. Each vehicle has plenty of storage for your belongings.
Car Rental 4×4 ensures that you have the best possible car, able to comfortably carry you over the long stretches of all terrain roads.
We guarantee you a rental vehicle in perfect condition with excellent back-up service. So, you can go and enjoy your Camping holiday in the beautiful Rwanda!
It is almost impossible to name all the different types of cars so we made a list of the vehicles used most.
Why Rent camping gear with Car Rental 4×4
We hire out a range of 4×4 vehicles for safer driving over rough/smooth terrain and to more remote areas of Rwanda.
We are also on standby 24/7 should you require any roadside assistance during your self-drive Camping safari.
All our camping Vehicles, come equipped with camping gear for either 2 or 4 people. We would also highly recommend the option of a fridge and GPS.
Items that come standard with every 4×4 vehicle equipped for camping
Extra spare wheels, wheel spanner, camping table and chairs, complete kitchen set, gas cooker, single or double roof tents with foam mattresses, Rooftop Tents, Fridge freezer, Ground sheet, Pillows, Wash basin, Table, Camping, chairs, Electric light, Gas cooker, Gas cylinders, Cooking set, Wash basin, Water jerry can, Barbeque grid, complete set of tools, Gas cooker, Gas cylinders, Cooking set, Water jerry can, Barbeque grid brush set, danger triangle, towrope, tyre pressure gauge, compressor, spade, first aid kit, wooden support block for the Jack