Rent A Car With A Driver in Rwanda | Chauffeur Services in Rwanda
Car rental with driver Rwanda: carrental4x4.com offers Private private car hire with adriver in Rwanda. Hire a car with a driver in kigali, Volcanoes, Nyjngwe, Akagera
Car Rental 4×4 offers car hire with driver guide per day for chauffeur services in Kigali, Musanze, Volcanoes National Park, Nyungwe Forest National Park, Giswati National Park and Akagera National Park at a budget cost from $35 per day.
Need an expert driver for an airport transfer, private sightseeing safari, business executive travel? Worry not! Car Rental 4×4 hires out excellent, professional car rental with driver/guide service for tourists travelers, time pressed travelers and business executives Rwanda.
Car rental 4×4's car rental with driver/guide (chauffeur) service provides clients with a rental car and a unique, professional and a certified, licensed driver/guide or hire in Rwanda.
Your driver/guide will be able to help you with your luggage and provide an efficient transport service in and around the Rwanda. All our drivers have competitive knowledge and are familiar with the traffic patterns and most reliable routes to use in and around Rwanda.
Our driver/guides are experienced professionals ensuring that our customers arrive safely and on time at their destinations and are collected instantly.
Rental Fleets for hire with Driver/guide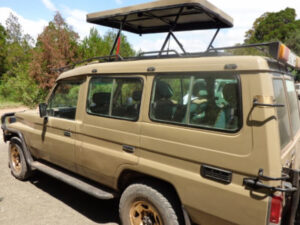 Car Rental 4×4's rental fleet for hire is custom designed to accommodate every individual's range of requirements. Our economy, sedan and luxury rental cars are suitable for 2-7 passengers, the standard safari land cruiser extended seats a total of seven passengers and our Toyota hiace, safari van and coaster buses accommodates from 7, 8, 9 up to 24 passengers.
Car Rental with driver guide (chauffeur) service for executive Business
Car Rental 4×4's driver/guide (chauffeur) executive service is an important solution for executive and business travel. Our driver/guide will meet you when your flight lands, thereafter your driver/guide will ensure you arrive at any meetings, functions and conferences punctually, and can either wait for you to finish your business or later return to pick you up at a specified time. Our excellent driver/guide or chauffeur services allow you to concentrate on business attachment while your driver/guide looks after all your transport requirements in Rwanda.
Our driver/guide chauffeur service continues the high standard of professional service customers can expect from self drive Rwanda.