Murchison Falls National Park in Uganda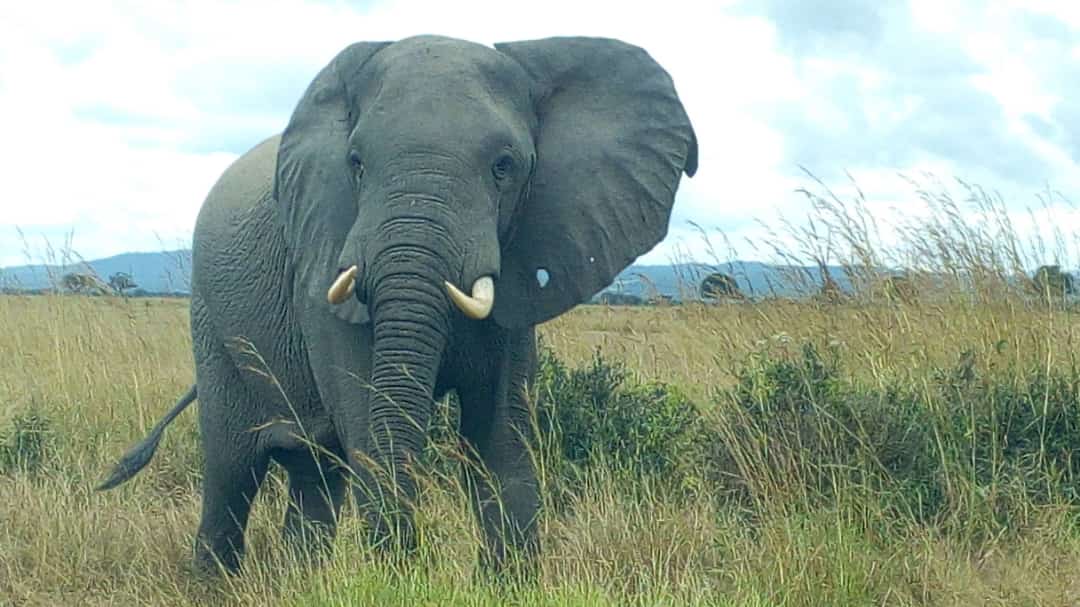 Murchison falls National Park Uganda is locally known as Kabalega National Park and it's situated at the end of Albertine Rift Valley and its Uganda's oldest and largest safari park. This national park is managed by the Uganda Wildlife Authority, located in the northwestern part of Uganda. The land of the park covers an area that spreads from the shores of Lake Albert around the Victoria Nile Park that connects to Bugungu Wildlife Reserve which is 740 square kilometers.
Murchison Falls National Park is surrounded within four districts including Nwoya, Bulisa, Kirayandongo and masindi. The distance from Masindi district which is the nearest large town Kibanda area to the national park is 80 kilometers. This Park was first gazette as a wildlife reserve in 1926 and is a home to 76 different mammal species and 451 birds. Murchison Falls Conservation Area is made up of Bugungu, Karuma Wildlife reserves and Murchison Falls National Park.
This fall is bisected by the Victoria Nile which plunges 45m over the remnant valley wall, creating the dramatic falls, the park's unique attraction and the final event in an 80km stretch of rapids.
Murchison Falls National Park was named after a geologist Roderick Murchison, Sir Samuel Baker the explore named the Park Murchison. In the 1907 and 1914, there were inhabitants on over 13000 square kilometers of land however, they were evacuated due to sleeping sickness which was spread by tsetse flies in the park.
Murchison Falls National Park is adjacent to Budongo forest Reserve which inhabits over 80 species of mammals as well as Nile crocodiles, 500 bird species that range from the shoe-bill stork, water birds, Goliath heron, kingfisher, white-thighed hornbill, great blue turaco and many more.
Murchison falls National Park has a large number of wildlife species which can be encountered during a game drive with the rangers who are well informed about different park mammals. During the game reserve you will have a chance to see Lions, buffaloes, Uganda Kobs, waterbucks, warthogs, Jackson hartebeests, antelopes, bushbucks, elephants and many more wildlife species.
Activities in Murchison Falls National Park
Murchison Falls National Park has got a lot to offer in terms of activities that will spice up and make you enjoy the tour to the conservation area. Each activity is paid for separately and once your tour operator is booked be sure to confirm the activities that you want to be included on your safari to Murchison Falls National Park. The activities include the following;
Boat cruise on the Nile River. During your boat cruise you will enjoy watching the hippopotamus, elephants as they come to bathe in water, antelopes, water birds and many other species along the River Nile. After the boat cruise, you will enjoy the hike to the top of the falls for better wildlife viewings.
Activities in Murchison Falls
Nocturnal game drive. In this Park one can engage in the Nocturnal game drive where you have a chance to see the predators of the night such as leopards, Lions, Hyenas, Serval cats etc. This game drive takes two hours to see the Nocturnal in their habitats. You will enjoy the spotlights for the night game drive in Murchison Falls National Park. You can also r=enjoy with your family safari tour whereby children will have the best of their time and experience to see different Nocturnal species during the game drive.
Game Drive. On your visit to Murchison Falls National Park you will enjoy the game drive which takes a maximum of 3hours to see the hyenas, hippos, warthogs, giraffes, Zebras etc.
Hot Air balloon Wildlife safari. This safari is only found in one of the national parks in Uganda where one can enjoy a hot air balloon wildlife Uganda safari
Nile Delta Boat Ride. You will enjoy the boat rides where the river merges into Lake Albert. It is commonly referred to as the Nile Delta.
Birding Safari Tours. This is yet another activity to encounter during the nature walk where you will enjoy the beautiful views of the landscape of Riverine Forest landscape and see a variety of wildlife species.
Hiking in Rabongo Forest. This is one of the best birders paradises as well as to spot the chimpanzees that are already habituated and therefore makes it a great place to do chimpanzee trekking
Chimpanzee Trekking in Budongo Forest. This forest inhabits a number of chimpanzees that are already habituated and therefore makes it a great place to do chimpanzee trekking.
Search for the Shoebill Stork. This park is a home to the famous shoebill stork which is located along the banks of the river. River Nile and Lake Albert have a number of bird species.
Rhino trekking. On your way to Murchison falls you can have a stopover at Ziwa Rhino Sanctuary on foot, this is one of the big five mammals. While here you can do the Rhino Tracking exercise.
Cultural Safari Tours including Boomu Uganda Village visit for a few hours. You can take walks in the village and have traditional African Banda.
Murchison Fall Safari
2 Days Murchison Falls Safari
You will enjoy an amazing and wonderful 2 days Murchison falls wildlife safari to Murchison falls national park which is Uganda's most popular park. You will get to experience the abundance of wildlife as well as the beautiful tourist attractions
4 Day Murchison Falls Safari
This 4 day Murchison Fall Safari encompasses a wildlife experience at Murchison falls national park doing activities such as game drives, boat cruiser and later chimpanzee trekking at budongo forest.
3 Day Murchison Fall Tour
This is the best tour for any wildlife lover and the shortest safari that enables you to see all the big five animals in a single visit.
Wildlife Species
Wildlife Species are abundant in the park and are one of the main attractions that attract many tourists worldwide. During your tour to Murchison Falls National Park, you will be delighted to spot a number of species like lions, giraffes, elephants, cheetahs, leopards, hippos, buffaloes, hyenas and many others.
As you tour the national park you will have a look at different bird species like Abyssinian birds, illadopsis pulveli, the yellow footed fly catcher, pitta reichenowi, parmoptilla woodhouse, shoebill etc. It is noted that the National Park has over 450 bird species.
Conservation Areas in the Murchison falls national park
Budongo Forest
Budongo forest is part of the Murchison falls national park (MFCA). This one and only natural forest that has been in existence for centuries in Uganda. The forest is a famous destination for chimpanzee safaris and nature walks safaris in Uganda. This fame is especially attributed to the fact that it continues to be the only naturally grown forest in Uganda over the years and it is a home for the endangered primate species, the chimpanzees.
This forest is under the watch and care of the national forests association (NFA), then the works and programs of the conservation in budongo area are partly shared by budongo conservation field station (BCFS) a non- government organization which works hand in hand with Makerere University to carry on the conservation projects of budongo forest also known as a conservation reserve.
Kaniyo pabidi forest
This is a significant area in Murchison Falls National park as well as in the tourism industry of Uganda known for its bird life which supports birding safaris in Murchison falls national park. This forest is located northeast of the major natural forest in Uganda. The forest is managed by Jane goodall institute of research
Rabongo Forest
This forest gives you the best camping safari experience in the safest forest sites, guarded well. You can enjoy the thrilling nightfall with the sound of the forest dwellers which creates the most epic night in the wild. The sweet melodies from the night birds plus the soothing fresh air in the forest, added to the deeming light rays dropping through the spaces in the broad tall tree canopies and much more make the memorable safari camping in Rabongo forest
Accommodation Facilities
Murchison Falls National Park has the best accommodation facilities in terms of lodges in the whole country. The park provides a wide range of accommodation for the best Uganda safari/ Uganda tour ranging from budget lodges, mid-range lodges and luxurious lodges. These are the lodges that might interest you depending on your budget plan. Those who opt for luxurious lodges and fancy tours can opt for lodges like Chobe Safari Lodge, Nile Safari Lodge, Paraa Safari Lodge and Bakers Lodge. For budget loans one can opt for Yebo safari Camp, Budongo Eco Lodge, Boomu Womens Group Bandas, Parkside Safari Lodge. Midrange Lodges include Murchison River Lodge, Fort Murchison Safari Lodge, Pakuba Safari Lodge, Kabalega Wilderness Lodge etc.
In conclusion, Murchison falls national park highlights Uganda safari destinations, besides visiting Murchison falls national park, there are also other activities done. Some other popular activities include Uganda gorilla trekking or Uganda gorilla safari conducted in Bwindi impenetrable forest national park and Mgahinga gorilla national parks, Chimpanzee trekking in kibale forest national parks, Uganda wildlife safaris at queen Elizabeth national parks/ kidepo valley national park/ lake mburo national park