4×4 Car rental with Pop-up (Open) roof Kenya
4×4 Car Hire With Pop Up Roof in Kenya: Rent a self drive or chauffeur driven car with a pop up (open) roof in Kenya. Car Rental 4×4 Africa hires Cars ( Land cruisers, & vans) With Pop Up (Open) roofs In Kenya so that guests can stand up when viewing wildlife and can take photographs.
Enjoy thrilling game viewing drives in our Kenya 4WD Pop up roof safari Land cruisers, safari minivan with pop up roof, Land cruiser hardtop with pop up roof, Land cruiser LX with pop up roof, Land cruiser Extended (with a driver) with pop up roof and V8 Land cruiser to take a self drive safari into Kenya's most impressive National parks and reserves. Enjoy the freedom and flexibility of a 4×4 rental self drive safari.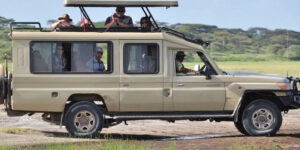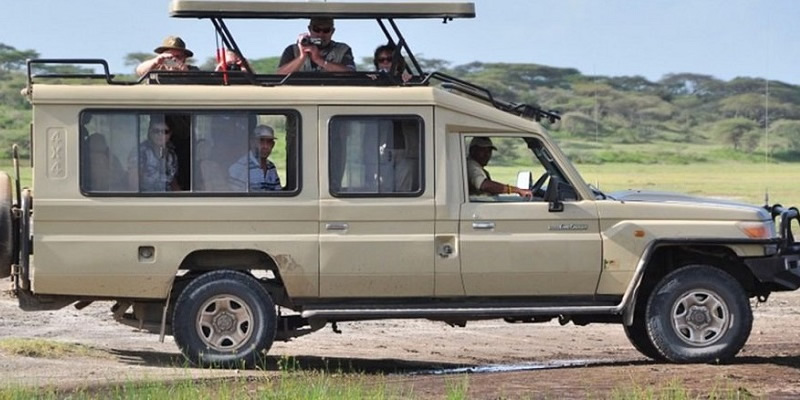 Car rental 4×4 Africa prides itself in hiring out a wide selection of reliable & comfortable 4×4 vehicles with Pop up roof rentals that can access all road types.
All our rental fleets for hire with Pop up roofs are 4×4 vehicles, giving our customers the freedom to explore all that Kenya's Wildlife National Parks has to offer.
Get off the beaten tracks with 4WDs with pop-up roofs! Explore Kenya's National Parks in a 4×4 pop-up roof rental car. A 7 seater pop-up roof Land cruiser with driver guide is also the best way to explore Kenya, because clients stand upright to view wildlife & take beautiful Photographs, when in the National Parks or reserves like Masaai Mara national Reserve, Lake Nakuru National Park, Lake Naivasha National Park, Nairobi national Parks, Samburu Game reserve etcetera.
Benefits Rent a 4×4 pop-up roof Car Rental in Kenya?
The vehicle height ensures better wildlife viewing. Our vehicles feature pop-up roof vehicles for tourists to stand up and view directly while taking uninterruptible photos.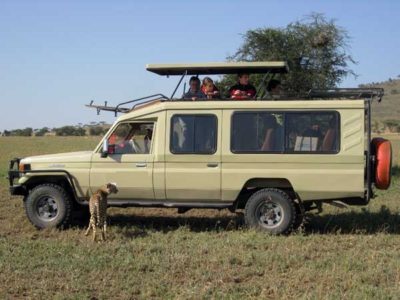 It also has clear viewing windows inbuilt MP3/CD player with a cargo space for the traveler's bag. It also has an air conditioner with a battery recharging facility for phones and camera.
All our self drive cars with pop up roof are allowed on all terrains. So it can be driven to places like Masaai Mara National Park, Nairobi National Park, Aberdare National Park, Lake Nakuru, Amboseli national Park.
More interior space allows for luggage, camera equipment comfortable travel. This is a great and most comfortable choice if you are planning to travel around Kenya. The chairs are rightly fitted with fixed seat belts and the tourists comfortably stretch their legs, the land cruiser's exterior features eye catching colors which suite the eco system.
A well equipped 4×4 rental car with a pop up roof, well equipped is essential when visiting Kenya's Savannah National parks and you don't need to get worried about the break downs.
All our 4×4 vehicles with pop-up roof, are equipped with essential gear such as spare tyres, high lift jacks and strong batteries which allow for safer travel.
We hire sturdy/strong 4×4 rental cars with pop-up roof to our customers so as to access all destinations, including remote or hard-to-reach places.
The 4×4 land cruisers with pop up roof on offer, have long-range fuel tanks that are capable for greater distances without fuel stops. 4×4 Land cruisers are highly recommended for travel to Kenya due to the terrain nature when traveling.
The best way to enjoy your safari where you are involving a game drive in different national parks then you have to hire a car with a pop up roof, which is the best for a game drive in Kenya national parks. you need to have a car with reserve tanks for the game drive or you will have to carry an extra fuel jerrican with fuel to avoid disturbance during your game drive.
The best way to enjoy the game drive is by hiring a driver or a guide for your trip or you will have to hire one guide ion the park as for you your enjoying the sight and taking photos for a memorable time in your life.carrental4x4 have the best option for you on driver/guide who can speak English,Kiswahili for easier communication