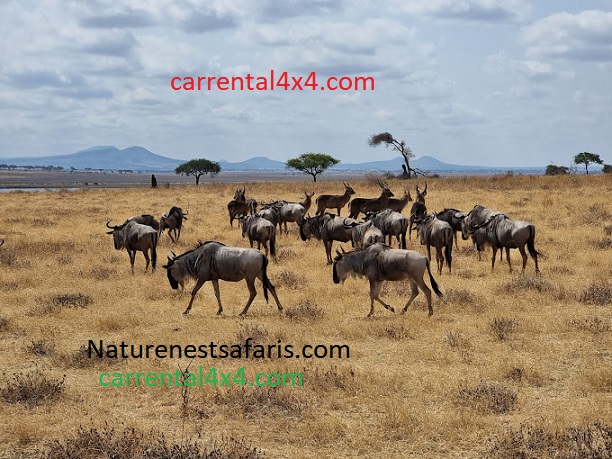 Welcome to Tarangire National Park
The park is located between the lakes of the Great Rift Valley to the north and west and the grasslands of the Masai Steppe to the south and east, just off the well-known northern Tanzania Safari Circuit. The permanent River Tarangire, which runs through Tarangire's northern sector, is known as the park's lifeline, especially during the dry season when the majority of the area is completely dry. This flows in a northerly direction till it leaves the park and empties into Lake Burungi in the northwest corner. In the south, there are several large marshes that turn into verdant grasslands during the dry season.
Flying into Kilimanjaro International Airport (JRO), which is located 46 kilometers (29 miles) from Arusha, is the best way to get there. You can also take a domestic flight to Arusha Airport (ARK) or Kilimanjaro International Airport from Julius Nyerere International Airport (DAR), which is close to Dar es Salaam (JRO). fo the game drive you can opt for car hire for self drive of car rental with a driver
Although there are frequent flights from Arusha and the Serengeti to Tarangire, getting there from Arusha takes just over two hours and only requires a tarmac road for the final 7 kilometers. Continuing on, Lake Manyara (100 km/60 mi in approximately two hours) and the Ngorongoro Crater (180 km/110 mi in about four hours) are both accessible by car.
Attractions
The Wildlife Migration of Tarangire
Tarangire features a large amount of migratory movement within the larger Tarangire ecosystem and is one of the most seasonal parks in northern Tanzania. Tarangire is situated in the south-east of Manyara National Park, around 120 kilometers from Arusha.
The majority of the Tarangire Area is completely dry between June and October, with only a few remaining water sources. This is known as the dry season. The Tarangire River's waters attract countless enormous herds of various species, which move into the park. Although not as significant as the more well-known, this massive movement of wildlife A vast number of animals, including elephants, hartebeests, wildebeests, gazelles, and zebras, as well as various predators like lions and leopards, enter the park each year during the wildebeest migration. Make an effort to include this park in your safari in northern Tanzania since the sparse, arid vegetation offers incredibly spectacular wildlife vistas.
Largest Elephant Population in Tanzania
Another distinctive quality that distinguishes Tarangire National Park's is massive elephant population—which is actually thought to be the biggest in all of Tanzania—is one of the main draws that has helped it gain international recognition. You will watch multiple enormous elephant herds of roughly 300 animals per herd digging the parched riverbed of the Tarangire River in quest of underground sources of water to quench their thirst as the dry season from June to October advances and the landscape becomes more -drier.
On the other hand, the arrival of the rains offers plenty of pastures and water which causes the animals to spread out across the park, however because of the large number of the elephants living here, it is still easy to spot these land giants even in the wet season.
The dry months of June to October bring about large gatherings of elephants. After the game migrates from the Masaai Mara, it gathers around the river.
Wildlife / Animals in Tarangire
Another distinctive aspect that is frequently observed in Tarangire is its 2,850 square kilometer surface area, which provides habitat to a variety of wildlife. Herds of up to roughly 300 elephants may be found here, as well as zebras that seek the dry river beds for underground streams. Migratory wildebeest, eland, gazelle, impala, zebras, kudu, rhino, hartebeest, buffalo, and other smaller species congregate around the decreasing lakes. The antelopes of the dry area, such as the fringe-eared Oryx and long-necked gerenuk, are also frequently seen.
Mongoose colonies are often hosted by abandoned drifts (anthills).The thick vegetation usually hides the main predators that are always there but cannot easily be seen just like any other parks in northern Tanzania.
Birding in Tarangire
Enjoy spotting a large batch of colorful and exclusive bird species. Over 550 different bird species are housed within the swamps that are spread all over Tarangire. For bird lovers, who find themselves taken up for a long period of time, this makes Tarangire a famous safari destination for you. Some off the popular species here include: the crested francolins, hoopoes, yellow necked spurfow, hornbills, guinea fowl, steppe eagles, brown parrots, the gigantic lappet-faced vulture, white-bellied go away bird, bateleur eagles, mousebirds, Kori bustards, yellow-collared lovebirds, bee-eaters, lilac breasted rollers, swifts, hammerkops, striped swallows and starlings.
The giant Baobab Tree
The baobab tree, popularly known as the Tree of Life, is another unusual sight that is frequently observed in Tarangire National Park. It is "gigantic" in size and has a trunk that can hold 300 and 1000 liters of water, respectively. They can live for up to 600 years and have a long lifespan. The edible seed of this tree serves as a substantial source of food for a variety of animals. Elephants, on the other hand, use the bark of these trees to sharpen their enormous tusks.
Local legends claim that these trees could easily migrate across the African continent, but God became irritated by their aimless movement and decided to install them upside down to constrain them.
The Swamps
The park is made up of a vast network of marshes, mostly in Tarangire's southern and eastern regions. Many birds and animals, including tree-climbing pythons, silale-swamp lions, African wild dogs, cape buffaloes, and even elephants, can be found in these swamps. the Donaldson-nightjar, Smith's the Vulturine Guinea fowl, Some of the bird species that can be seen in this area include the Yellow-collared Lovebird, Great White Pelican, White-faced Whistling-Duck, Mouse-colored Penduline Tit, Rufous-tailed Weaver, Fulvous Whistling-Duck, Northern Pied Babbler, Von der Decken's Hornbill, Northern White-crowned Shrike, Pink-breasted Lark, Ostrich, and Slate-colored Boubou.