Toyota Land cruiser TX/TZ Rental
Toyota Land Cruiser TX/TZ Rental: Rent a Toyota Land Cruiser Prado TX/TZ from Car rental 4×4 for an African Safari from $79 per day. They come with or without a pop up roof.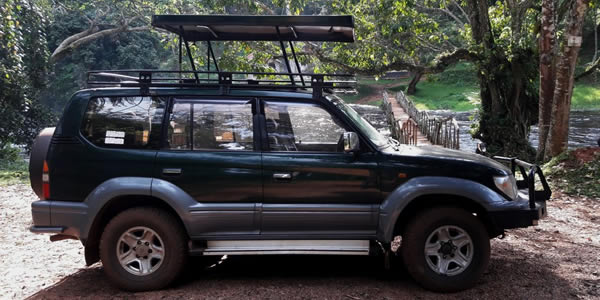 The Toyota Land cruiser Prado TX and TZ are mid-range class rental fleets that we hire out on self drive or with a driver. Despite their slight difference, TX/TZ land cruisers are comfortable, in well maintained condition, and ideal for all road types.
These safari cars has 4 doors each, accommodating at most 5 people, which makes it an ideal option for family trips, conference meetings and wedding events because of its stylish and striking look.
Both Land cruiser TX/TZ 90 series also feature 2700 cc / 3400cc Petrol engines and 3000cc Diesel Engines,  Air conditions, power steering, Airbags for both driver and passengers , and also come in either automatic or manual transmission.
What's the difference between Land cruiser TX and TZ
Although these cars have the similar features, there is still a slight difference between the two fleets which includes
Air Conditioning Outlets: The Land Cruiser Prado TZ has its air condition at the dashboard and at the back seat, whereas for the TX is found at the dashboard.
The Land cruiser TZ stronger enough for all African safaris, than TX
Why rent a Toyota Land Cruiser TX/TZ for your mid-range African safari
For proper ventilation, comfort, protection, flexibility and aeration, the land cruiser TZ/TX comes with a well distributed air condition, power windows and a central door lock. Besides the features, the car also comes with a spare tire to use on a safari in case of a puncture.
The Toyota land cruiser Prado's for hire gives you an option to choose from either automatic or manual gear shift.
These fleets also have enough space to comfortably accommodate 4 passengers, but at most 6 because of an additional 2 backpacker seats in the boot, which can also be removed to create space for luggage.
Both land cruisers can be offered for a camping safari in to the wilderness of Africa. The cars can come handy with a cooler box, an electric fridge, a storage box, kitchen equipment, sleeping bag, first aid box etc…
We rent out a wide selection of well-maintained Land cruiser TX/TZ models for self-drive or with a driver (from $30 per day) with/without rooftop tents or pop up roofs. With our great benefits of unlimited kilometers and comprehensive insurance and 24/7 road service, rent a Land cruiser TX/TZ for your mid-range safari in Africa, simply send us an email to rent@carrental4x4.com or call us on +256754787409  to speak with our reservation's personnel.