Toyota Land Cruiser V8 Rental | Car Rental 4×4
Toyota Land cruiser V8: Hire the Luxury 4×4 Toyota Land cruiser V8 for a self drive or with a driver for 4-5 people from Car Rental 4×4.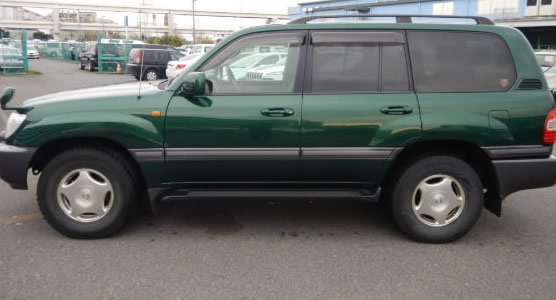 The Land Cruiser V8 is a perfect luxury car made by the Japanese company  and are available for hire in Uganda, Tanzania, Kenya, Rwanda and Burundi. It's big, powerful, reliable, and ideal for tarmac and off-road terrain. The car is perfect for airport transfers, business meeting, and honeymoon holidays.
This most popular car merges both 4×4 abilities with sport and class. The Toyota Land cruiser V8  is a 5 door off road vehicle, which sits about 5passengers comfortably and can cruise to a maximum speed of 180kmph.
The Car features an ideal automatic transmission, has airbags for the driver and passengers. Further more,  It  has a cruise control system to make the work of the wheel controller.
Toyota car also has other features including a full-size SUV with eight cylinders in a V-shape diesel engine. The 4461cc engine provides up to 381 horsepower. Not Forgetting air conditioner, CD player to keep travelers entertained and a digital radio system to give up to date information about the country and the rest of the world.
Why rent a 4×4 Toyota land cruiser V8 in Africa?
The car has a high end luxurious interior design with magnificent with the clean chairs and the whole surrounding environment. It offers a typical sense of luxury sitting in this car.
Our range of Land cruiser V8 are Strong and extremely powerful that's ideal for every African safari. It provides great confidence when riding on all African road types,  and can even navigate muddy roads, hence perfect for all road types.
A Toyota Land cruiser V8 is has enough  space, which can comfortably accommodate up to 5 passengers. The space allows for great adjustments between the chairs, which gives every person a chance lower back the seat and relax.
Our V8 Land Cruisers are flexible enough to be rented for businesses, conferences, airport transfer, wedding and safaris to the park for an adventure of nature? Rent a land cruiser V8 for the preferred number of days where you could combine various activities.
We  rent out a wide selection of land cruiser V8 models that are well maintained, affordable and reliable. It is available for self-drive or with a driver( at an additional of $35 per day). With our great benefits of unlimited kilometers and comprehensive insurance and 24/7 road service, Rent a Land cruiser V8 in Africa, simply send us an email to rent@carrental4x4.com or call us on +256 704 379348  to speak with our reservation's personnel.