Toyota Super Custom Rental | Car Rental 4×4
Toyota Super Custom Rental: Car Rental 4×4 hires out its Toyota Super custom For group safaris. It has FM radio, adjustable seats, AC, 4 doors, Mp3/CD player, Automatic Transmission.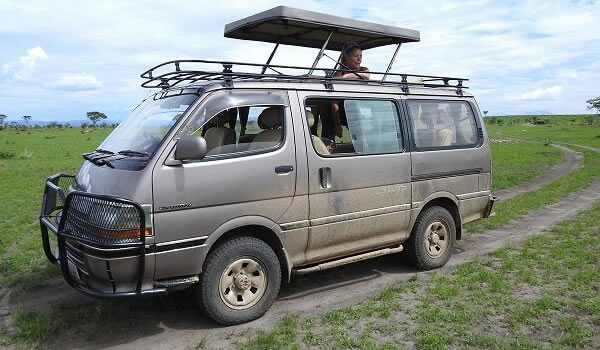 A Toyota super custom is a light, medium sized commercial 4×4 car manufactured by Toyota motors- Japan's first class car maker. it is one among the top group and family safari vehicles that can accommodate at most 7 occupants, thanks to its impressive interior attributes such as an air conditioning system, adjustable seats with enough leg room, a wide luggage space, MP3/CD player, FM radio, transmission, and Pop-Up Roof/ sun roof for game viewing.
The car is generally customized for safaris to National parks, since it's a 4×4 station wagon car with ability to maneuver through the challenging road conditions as it has a better ground clearance. Besides, the car can also be used for camping, due to its spacious interior that's capable to carry enough camping gear.
Our extensive range of super customs on offer, are also rented out along with the best car rental services such as Long term Car rental, driver guide, camping gear, one way between borders, airport transfers from the many African International airports to different hotel or preferred destinations.
However, if you need an airport transfer in Kenya or plan on visiting Uganda, Kenya, Tanzania, Rwanda among other African countries for city safaris, business holidays or leisure trips, we will be more than happy to offer you a Super custom on self-drive or with a driver guide for your next trip.
Features of a 4×4 Toyota Super custom Vehicle
4 doors
Air-conditioning
Driver Guide (at an additional fee at $35/day)
comfortably accommodates 6 occupants but at most 7
Unlimited Kilometers
Pop Up Roof/Sun roof
Automatic transmission
Power Steering
Airbag
Spare Tire
Rear Spoiler
Wheel Spanner
Book a 4×4 Super custom from the extensive range of our fleets in Uganda, Rwanda, Tanzania, Kenya among other countries in Africa. You can reach us through rent@carrental4x4.com or call us now on +256-754787407 to speak with the reservations team.