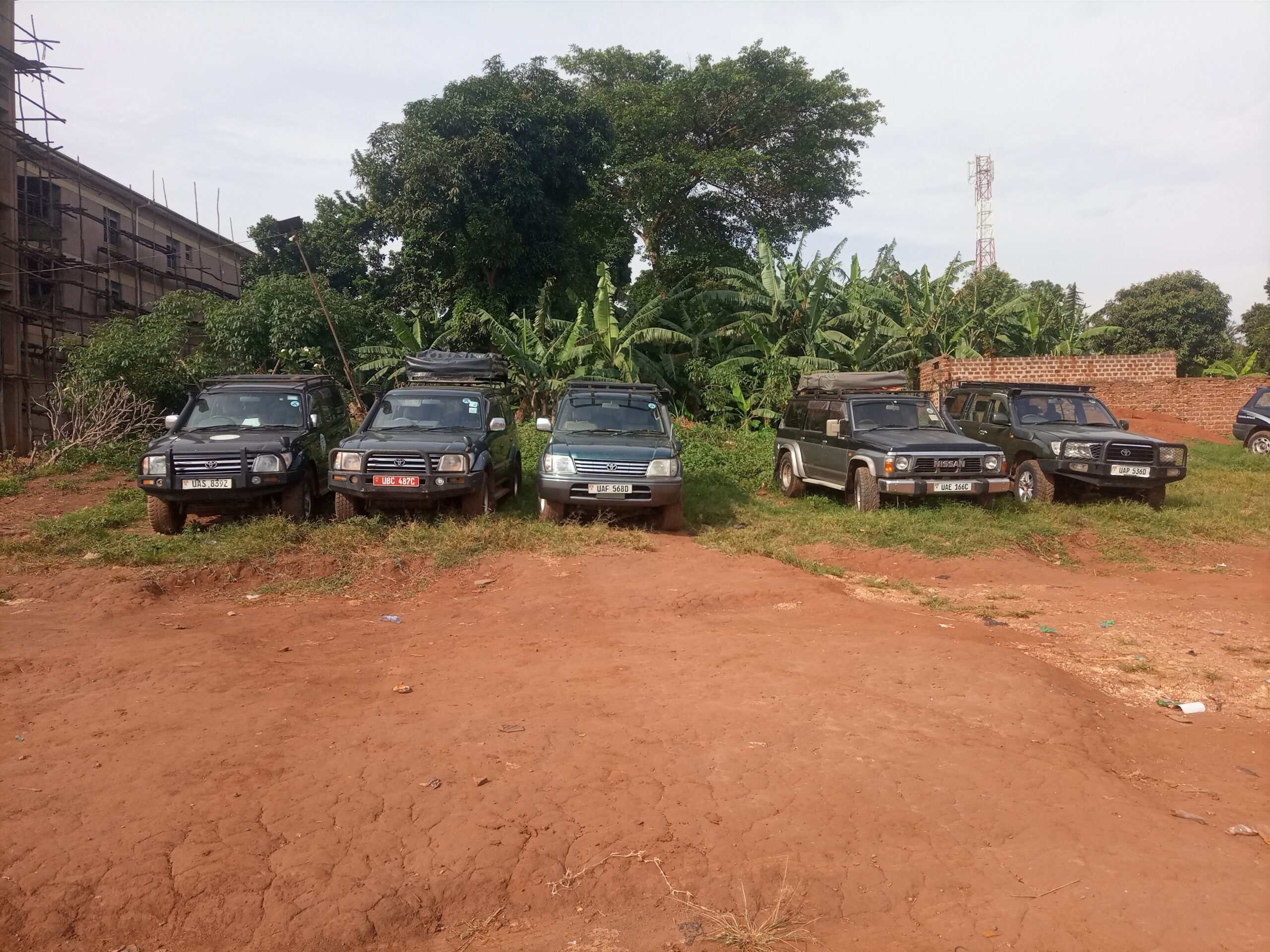 Uganda Safari on Self-drive Gorillas & Wildlife Tour
5 Days Uganda Safari, wildlife & Gorilla Trekking: Go on a 5 days self-drive Uganda Safari for wildlife &GorillatrekkinginQueenElizabeth National Park and Bwindi Impenetrable National Park.
This 5 days Uganda self-drive safari will start and end in Kampala or Entebbe International Airport. During this time you will have an inspiring experience as you will drive to Uganda's Queen Elizabeth National Park for a game drive and boat cruise on the Kazinga channel and Bwindi Impenetrable Forest National Park for Mountain gorilla trekking.
Safari Highlight of the 5days safari

Spectacular Scenery Route
Big Five game viewing
Gorilla trekking safari
Flexibility of time
Traveling in own Freedom & time
Detailed Itinerary of the 5 days Uganda Safari
Day 1: Travel to Bwindi Impenetrable National Park
Pick up your rental car from Entebbe International Airport or at your hotel in Kampala and drive to westwards to Queen Elizabeth National Park forest. You will have enroute stopovers at the Equator to buy crafts and take photos as well as for lunch in  Mbarara. Proceed with your journey to this magnificent home of the tree-climbing Lions in Queen Elizabeth National Park, especially at the Isasha sector.
Accommodation Options; Mweya safari lodge(Luxury)/Kyambura game lodge(Midrange)/Bush lodge(Budget) Meal Plan; Full Board
Day 2: Game drives and Boat cruise on Kazinga channel
Today you will explore the "Medley of Wonders". You will set out for the morning game drive along the Kasenyi track. Here you will track other morning risers including Lions, Buffaloes, antelopes, and elephants. You will return to the Lodge to spend time relaxing and as you wait for lunch
After drive back to the boat for an afternoon boat cruise on the Kazinga channel which is the most amazing activity to do while in this park. Later have dinner at the lodge and overnight there. Accommodation Options; Mweya safari lodge(Luxury)/Kyambura game lodge(Midrange)/Bush lodge(Budget)
3: Drive to Bwindi Impenetrable National Park.
Start your morning with a sumptuous breakfast and head for a final game drive along the Isasha sector before you transfer to Bwindi Impenetrable National Park.  Chances are high that you might spot tree climbing Lions from the top of the Acacia trees in the Ishasha sector of Queen Elizabeth National Park. Stop for lunch, and then continue to Bwindi's impenetrable forest. Once you arrive at your lodge in Bwindi, shower and relax by the lodge premises.
Accommodation Options; Chameleon Hill/Mahogany springs(Up market)/Gorilla Mist camp(Moderate), Ruhija gorilla friends camp(Budget) Meal plan; Half Board
Day 4: Tracking gorillas in Bwindi – Visit the Batwa Pygmies
On your 4th day, you will leave your accommodation after breakfast and drive to the park headquarters for briefing. Ensure that you have enough energy snacks and water. You will meet other trekkers with whom you will be allocated a gorilla family to trek.  Later on, with the help of a well-informed and experienced ranger guide, you will begin trekking, following the foot marks to the point where the gorillas have settled. The time schedule for trekking the gorillas depends on the movement of the gorillas, which may range between 2-8 hours.
Upon finding them, you will be allowed to stay close to the gorillas for at most 1 hour, while maintaining a distance of 8-10 meters. Return to your lodge for lunch, and spend time relaxing in the evening at your lodge, or otherwise, if you still have time, you can proceed to visit the Batwa community to learn and discover more about their culture and customs. Return then for dinner and later retire for an overnight at the lodge.
Note That. You are urged to carry enough water, sunglasses, raincoats, and hats, and to wear sturdy shoes.
Later in the afternoon, you will be visiting the Batwa pygmy community. The Batwa originally lived in the Bwindi impenetrable forest before being relocated to their current homes. The government thought it would be reserving the forest for gorilla conservation programs but they didn't consider the negative impact it would have on a community that had lived for thousands of years as hunters and gatherers. Most of the Batwa never adapted to life outside the forest. They had to deal with new diseases, alcoholism, and chronic poverty. Moreover, they also had to learn to live with aggressive neighbors whom they had avoided for thousands of years. Most Batwa now survive as squatters on farms owned by the more progressive tribes. While visiting them, the Batwa will entertain you with traditional dances, songs, and stories about the past way of life.
Dinner and overnight at Chameleon Hill Lodge (luxury), Bakiga Lodge (Mid-range), and Rushaga Camp (Budget).
Day 5: Transfer back to Kampala for departure
For those who have a later flight, you will finish off your stay and head back to Kampala or to the airport, with an en route visit to the Igongo cultural center. And we wish you a pleasant journey.
Things to Know about the 5 days Uganda Gorilla Safari
Self-drive Safaris in Uganda begin either in Entebbe International Airport or Kampala City or at Kigali International Airport. A valid driver's license is required, along with a one-year-long on-road experience. Please be aware that your itinerary may be re-customized to better fit your safari arrival date and time.
Although the Ugandan weather can be very unpredictable. Please bring appropriate clothing.
Please wear suitable waterproof clothes and sturdy hiking shoes for this trip. Gorilla trekking usually takes around 2 hours–6 hours (depending on the condition of people in the group and how far the gorillas have moved). A guide will be with you at all times during the walk during gorilla trekking.
Accommodation during your 5 days Uganda safari

Upon request, we can make free accommodation bookings freely depending on you're your choice and range. Bookings for one person will be made in single rooms, and bookings for two or more people will share a twin/double or triple room(s).
While for Teenagers and children will be organized in the same room with their parents. If additional room(s) is needed, additional costs will incur.
We will provide you with the best available accommodation at the time of your booking from our preferred partners. Please keep in mind that hotel quality in Uganda varies among locations and availability is highly limited. If our preferred partners are fully booked at the time of your booking, we will find another suitable accommodation for you of a similar level.
Please note that not all locations provide quality-level accommodation. Budget, mid-range, and luxury level accommodation will be arranged at those particular locations, which is reflected in the quality level upgrade price.
Uganda guided safari car to use

Below you can see the car rental options available for this self-drive tour.
All our vehicles are in good mechanical condition and come with comprehensive insurance, excluding fuel and driver. The car rental will provide 24-hour roadside emergency services.
For the camping experience, our rooftop tent land cruisers come with a full kit of kitchen equipment, and vehicle gear with rooftop tents, suitable enough for camping.
The age requirement for driving must be above  18 years of age, while the driving license must be valid for one year before the date of the rental.