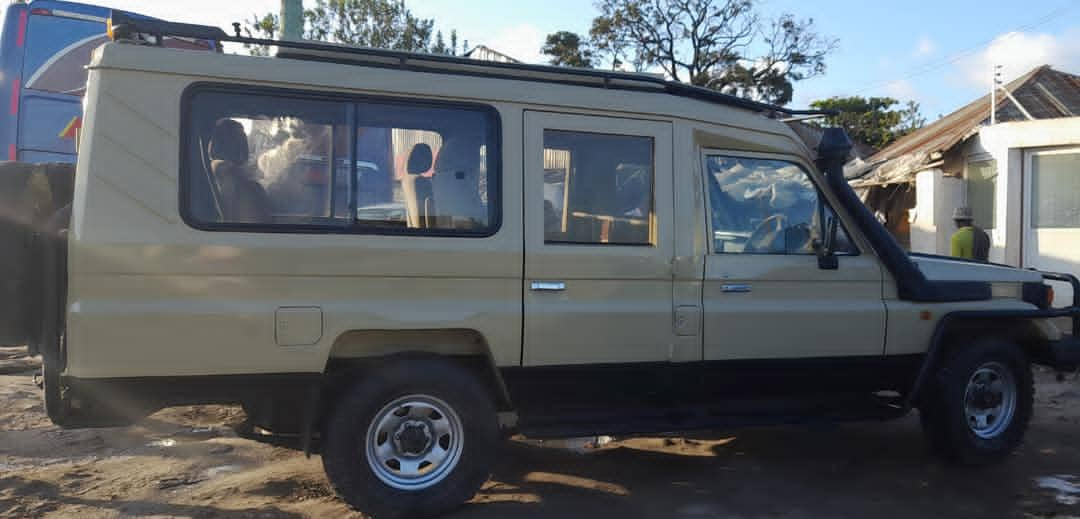 3 DAYS KIBALE NATIONAL PARK SAFARI TOUR
you may be wondering about the best safari vehicle to use during your trip in Uganda, very many companies advertise the different cars for rentals, and car rentals will provide the best properties of a good safari vehicle for a group of single travelers. For those who are having game drives in their tour package, a Landcruiser with a popup roof is the most recommended for such Uganda safaris
The overview
This 3-day Kibale national park Safari leads you to Kibale National Park in western Uganda, in which you will have the opportunity to interact with endangered chimps and other primates such as grey-cheeked mangabeys, vervet monkeys, red-tailed monkeys, and olive baboons in their native habitat. During the safari, you are also going to take part in a captivating nature walk in the Bigodi swamp, during which you will see various bird species, butterflies, primates, and mammals, among others, and have the chance to have water experience at the Equator. You will also have the opportunity to participate in other optional various tourist activities around Fort Portal, such as a tea estate walk, farm visits, a canoe ride on Crater Lakes, cycling around the Craters, a visit to a community and orphan
The safari highlights
Chimpanzee trekking
Bigodi swamp walk
Stopovers at the Equator and Igongo cultural center
Sightseeing of other primates
Day by day Itinerary
Day 1: Pick up from hotel in Kampala and transfer to Kibale national park
on arrival at Entebbe international airport, the driver/ guide will welcome and brief you about your safari, after the briefing and all payments required are done, you will start the journey to the fort portal for chimpanzee trucking in a Toyota Landcruiser. the drive will take around 5 to 6hrs depending on the activities on the road. You will have lunch in Fort portal town before heading to the lodge or the guest house to spend a night. You will have amazing vistas of the lovely landscape, customary homesteads, local people, terraced agricultural land, tea and banana plantations, views of the crater lakes, and Rwenzori mountain ranges, among other things. When you arrive in Kibale National Park, you will check into the lodge and rest.
In the late afternoon, you can opt to do one of several activities in and near Kibale National Park. You can choose to go on a nature-guided walk in the crater lakes area for spectacular views, a tea estate walk, a villa farm visit, a canoe ride on Crater Lakes, cycling around the Craters, visit a community and orphanage center, Amabere cave exploration, and a Fort Portal town tour before returning to your lodge for dinner and an overnight stay.
Meal plan: All meals are included
Day 2: Chimpanzee tracking and Bigodi swamp walk
After an early breakfast, you will proceed to the park's headquarters for an instructional session on the rules and guidelines of chimp trekking, as well as the assignment of a chimp family to trek and a park guide who is familiar with the forest's pathways. Chimpanzee trekking in Kibale National Park typically takes 30 minutes to 4 hours, depending on where the chimps slept the night before. After that, you will enter the forest in search of chimps, during which you will be able to see other wildlife species such as butterflies, birds, plants, primates, and mammals, among others. Once the chimps are found, you will be able to spend one hour with them in their natural habitat, observing their behaviors and habits, watching them feed, breastfeed, play, hunt, fight, rest, take photos, and record videos with a flash-less camera. After the chimp trekking adventure, you will rejoin your driving guide and head to the lodge for lunch.
After lunch, you will go on a fascinating nature walk in Bigodi sanctuary, in which you will have the opportunity able to see various primates such as black and white colobus monkeys, L'hoest monkeys, red-tailed monkeys, grey-cheeked mangabeys, mammals such as bushbucks and Sitatungas, as well as various bird species such as the great blue turaco, green breasted pitta, papyrus gonolek, colorful butterflies. Following the swamp walk, you will return to the lodge for an evening of leisure, dinner, and overnight.
Meal plan: All meals are included
Day 3: Transfer back to Kampala via the Mbarara route
After the morning breakfast, you can have a visit to the king's palace before you transfer back to the airport for departure or accommodation in Entebbe town, the palace is located at the hill of Karuzika where you can have the overlook of Fort Portal town. the palace is always open for tourists to learn how the kingdom was founded in 1822 after the oldest son of Omukama of Bunyoro kingdom rebelled against his father. . the Tooro palace is seen as an integral part of the Tooro way of life. After that, continue on to Kampala, where you will arrive in the early evening. Where our driver guide will drop you off at Entebbe International Airport for your scheduled departure flight or hotel, bringing this safari to a close.
Meal plan: Breakfast and lunch