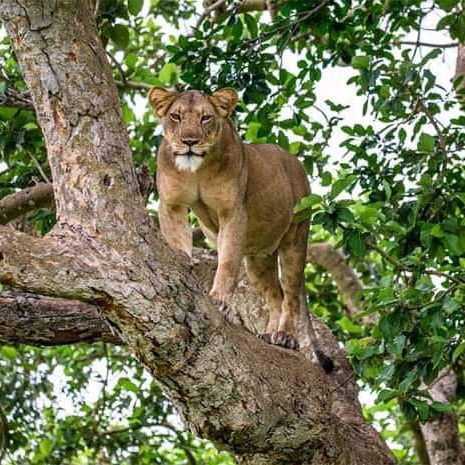 Uganda the pearl of Africa offers yet another interesting and off-beaten track experience for wildlife enthusiasts. You might have encountered lions in the wild, but have you encountered the tree climbing lions anywhere?  If you haven't, then make a trip to this Park and see the King of the jungle hanging and relaxing lazily on the fig tree branches. ISHASHA FOREST The is a remote region situated on the Southern edge of Queen Elizabeth National Park. This region is mainly composed of Open Savannah plains, Riverine, and then acacia and fig trees where the lions are often sighted.  There are always numerous Uganda Kobs (prey to the tree-climbing lions) seen grazing in the Plains of the Ishasha sector. Game viewing within this sector is even more interesting because of the undulating landscapes that offer a magnificent view of the wildlife and the whole National Park.
Ishasha Sector is the most liked and visited part of the park and the main reason why tourists visit this park and is an internationally recognized habitat for tree-climbing lions. Rarely will you encounter lions climbing trees, there are only two places in the entire world where these tree-climbing lions can be sighted and they include the spectacular Ishasha sector and Lake Manyara in Tanzania? The male lions are more exceptional and can be recognized by their Black manes.
Besides the renowned tree-climbing lions of the Ishasha sector, other wildlife species can be sighted and they include numerous elephants, Black and White Colobus Monkeys, warthogs, buffaloes, antelopes including Uganda Kobs, Topis, waterbucks, Elands and bushbucks that keep crossing the paths and many hippos among others.  Ishasha being a remote sector means few tourists visit hence those that visit enjoy the wildlife views in a quiet and authentic environment, and makes you feel you have the entire park to yourself. There is also a common sighting of some bird species and they include Black coucal, Herons, and Compact Weaver among others.
Best time to visit the Ishasha sector
The Ishasha sector can be visited any time of the year but the preferred time by tourists is the dry season from December to February and June to September because conditions are favorable, for example, paths are less muddy and slippery. During this time, the grasses are also shorter hence it becomes easier to spot the animals as they are grazing and as the predators are hunting.Most of the tourists/ visitors travel to Uganda during the month of June-October and December to March! Therefore the prior booking is always needed so that you avoid disappointments.
Where to stay within and out of the Ishasha sector
Not only will you enjoy the breathtaking view of the tree-climbing lions and other wildlife species, but you will also be accommodated in some of the most classic and exquisite accommodation facilities that include; Ishasha Ntugwe Camp, Savanna Resort Hotel, and Ishasha Wilderness Camp within the Ishasha sector. Other accommodation facilities include Mweya Safari lodge (luxury), Kasenyi Safari Camp, Ihamba Lakeside Safari Lodge, and Marafiki Safari Lodge.
How to reach the Ishasha Sector
Tourists have to first connect to Queen Elizabeth National Park when accessing this Park most of the tourist like to see the tree-climbing lion and the only short means is by visiting Queen Elizabeth national park and then to ISHASHA, you would have killed two birds with one stone. Drive through Kampala-Masaka-Mbarara-Bushenyi-Kasese then to queen Elizabeth national park Park (Mweya Visitor center).  It is about 2 hour drive from Mweya Peninsular to this sector. Visitors willing to combine wildlife viewing in the Ishasha sector and gorilla trekking in Bwindi national park will use the northern side of Bwindi national park where the Buhoma sector for gorillas is located (through Kihihi). It is approximately a 64kilometers/2-3 hours drive from BUHOOMA. A 4WD vehicle is recommended because the roads leading to Queen Elizabeth National Park are rough and become muddy and impassable during rainy seasons. From ishasha you travel to Bwindi for gorilla trekking and the nearby sector where you can trek from is Buhooma
In conclusion, the Ishasha sector is one of the most visited sectors in Queen Elizabeth National park because of the magnificent tree-climbing lions that are only found here. This is the only place in Uganda where tourists can visit to have this extraordinary and breathtaking experience.