Car Rental With A Driver Guide Uganda From $75/day
Car Rental With A Driver Guide Uganda: Hire 4×4 Car Rental With a professional & experienced English, Spanish, French and Germany driver-guide Uganda.
4×4 car rental Uganda with a driver guide! Car rental 4×4 offers professional, and experienced car hire and driver-guide in Uganda from Kampala or Entebbe to other places of Jinja, Gulu, Masaka, Fort protal, Arua, Mbale, Mabrara, Jinja among others.
4×4 car rental w/driver-guide are also available for Bwindi Impenetrable National Park, Murchison Falls National Parks, Kidepo National Park, Queen Elizabeth National Park, Lake Mburo National Park, Mountain Rwenzori National Park, Kibale Forest national Park, Mgahinga National Park, Mount Elgon National Park, and Semuliki National Park.
We offer 4×4 car rental w/driver-guide for our standard rental fleets like; Toyota Rav4s, Land cruiser rental cars, safari vans or Toyota hiaces, Coaster buses, Land Rover defenders, Toyota Hilux double cab, super customs, Nissan Patrol which suit your budget and comfort range.
We also provide car Hire with driver/guide services to travelers who come to Uganda for their holidays with either family or friends.
4×4 rental cars for hire with driver guide in Uganda
Car Rental 4×4 is proud to have a modern, well-maintained fleet of rental cars. With our car rental and driver/guide services, we strive to ensure that your ride will be safe, pleasant and free from interruption.
Our fleet managers carefully inspect, maintain and clean every vehicle after each trip. Your car rental and driver/guide will arrive to you clean, fresh smelling, and ready for you to enjoy the comfort of a climate controlled, expertly handled rental car.
4×4 Car Rental W/Driver guide for safaris in Uganda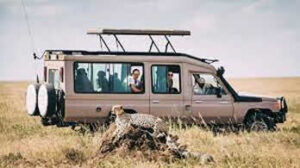 Car Rental 4×4 provides Car hire services with driver for safaris/tours in Uganda, Airport transfers to any destination in Uganda, Day trips / Day Excursions from any hotel, Kampala city tour, Shopping tour, Hotel transfers, Conference and Special Events.
Our fleet of Cars always maintain to a trouble free journey through out your holidays with our professional tour Drivers /Chauffeurs.
In addition to the 4×4 car rental w/driver-guide Uganda, we also help our client to plan their holiday according to the client's discretion. Our local expertise will always help you to enjoy every minute of your holiday in Uganda.
We always strive to provide you an undeniable and ultimate travel experience to make your holiday a memorable and trouble free one in Uganda.
Safari van/ coaster car Hire in Uganda with a driver
Local and sightseeing trips provided on drafted itinerary basis. We offer safari van/coaster bus for sightseeing safari adventures with a professional and experienced driver who knows every places of Uganda and will help you as a tour guide.
Airport Transfers with a driver guide
Car Rental 4×4 gives you the opportunity to choose either fixed or variable price for Car rental with driver for airport pick-up & drop off service, at some place within Kampala city limits.
Holiday Packages
Besides car hire with a driver service, car rental 4×4 also offers detailed itinerary planning for all major tourist destinations in Uganda at affordable rates. To know more about our car rental with driver/guide services, you can call 0779 028 753.
Our tour executive will give you all necessary details regarding our driver/guide or chauffeur services, safari tour packages, deals and offers on car hire in Uganda.