Rooftop Tents Tanzania, Car rental with Rooftop tents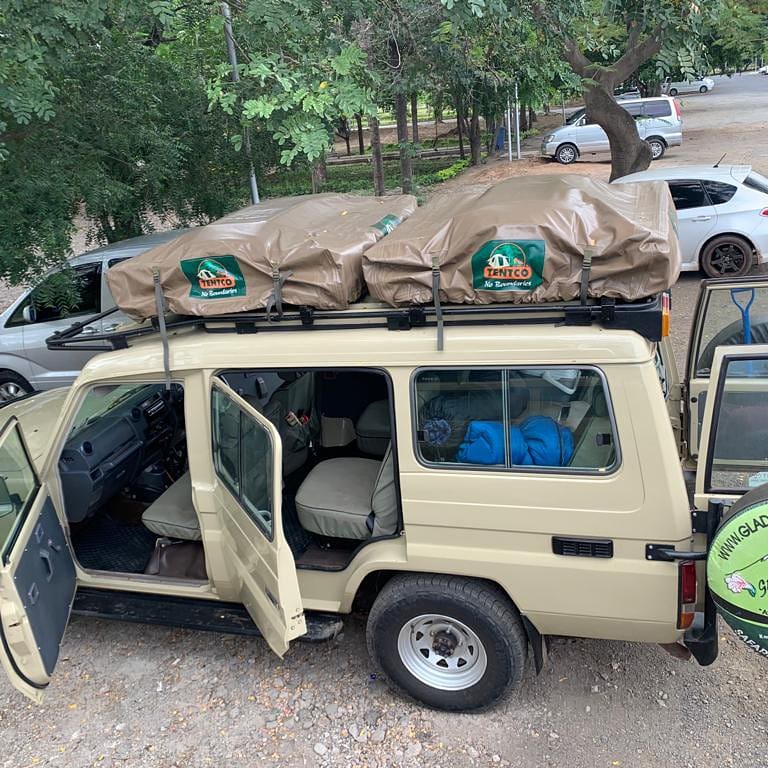 Rooftop tents Tanzania, rooftop tents Serengeti, rooftop tents Arusha, rooftop tents Moshi, Rooftop tents Zanzibar. Rooftop tents Lake Manyara, rooftop tents Dar-es-salaam, rooftop tents Ngorongoro, Rooftop tents Mwanza.
Explore Tanzania in a 4×4 rooftop tent Car/Land cruiser. A roof tent is a perfect way to travel around the Tanzanian landscapes & roads. Camp all around Tanzania on a rooftop tent.
We at Car Rental 4×4 are proud to have Rooftop Tent vehicles in our fleet. Our Roof Tents are all on 4×4 Land Cruisers giving our customers the freedom to explore all of what Tanzania has to offer.
All our rooftop tents are comfortable, reliable and high quality that we have put on our most popular 4×4 Land cruiser GX, Land Cruiser V8, Land cruiser LX, Land Cruiser VX/TZ and Toyota Hilux. All these cars are allowed on all road types so you can enjoy the untouched nature in Tanzania.
Why rent a car with Rooftop Tent in Tanzania from Car rental 4×4?
There are so many benefits to renting a roof tent 4×4 vehicle. All our camping cars are 4WD vehicles that can be driven on all road types. So it can be driven to places like Serengeti National Park, Mwanza, Moshi, Dodoma,  Kilimanjaro, Tarangire, Lake Manyara National park and Ngorongoro conservationa area among others and camp there at the camping locations in Tanzania.
It is extra easy to set up the Roof Tents, it only takes 30 seconds to put it up and a similar time to fold it down.  With our rooftop tent rental cars, you can drive at all destinations and camp at all locations that are all around Tanzania
The rooftop tents have more Luggage Space as the mattress, stair, pillows and sleeping bags are stored inside the roof tent.
Our rooftop tents are waterproof: Our tents are all made from high-quality fabric, strong enough to handle the Tanzanian weather so you do not have to worry about leaks.
What is included with our camping Roof Tent vehicles?
Our fully equipped rooftop tents come with mattresses, sleeping bags, electric fridge(at an additional pay), cooler box, storage box, kitchen utensils, camping table, camping chairs, gas cans, cutlery, all included in the price, making it comfortable for camping enthusiasts.
We also offer many extras if you want to have the whole camping experience like GPS navigator & bedsheets, child seats, towels upon request.
What camping cars do we have at Car rental 4×4?
The 4×4 campers we have to offer :
Toyota Land Cruiser Gx: This Manual transmission, 4-door vehicle suits 5 passengers and fits 4 suitcases.
Land cruiser LX: This Manual transmission, 3-door vehicle suits four passengers and fits three suitcases. (Older model)
Toyota Land cruiser v8: This Automatic transmission, -door vehicle suits four passengers and fits three suitcases.
Land Cruiser TX/TZ: A tough, reliable SUV with a Automatic transmission, fitting up to five passengers.
Toyota Hilux with a rooftop tent: A tough, reliable SUV with a manual transmission, fitting up to five passengers. (Brand new vehicles)
Toyota Rav4 3 or 5 doors without rooftop tent: An automatic transmission SUV for 2 or 5 passengers and a few pieces of luggage.
Nissan Patrol with rooftop tent: Manual Transmission SUV for 5 passengers, fitting for 4 and enough luggage space. It comes with Bluetooth compatibility, cruise control, and AUX and USB outlets.
Safari van without Rooftop tent: Automatic Transmission SUV for 7 persons. Bluetooth, USB, cruise control and AUX outlets.
Safari Extended Land Cruiser without rooftop tent: An automatic transmission vehicle for up to 7 passengers.