Safari Van Hire for group, family, Airport transfers & business travels
Safari Van Rental: carrntal4x4.com offers safari vans for group trips, family, business, co-orporate holidays & organization safaris in Africa.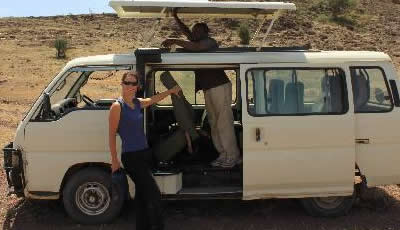 We have the 7 seater and 9 Seater safari vans capable of carrying up to 7 and 10 passengers respectively in Uganda, Rwanda, Kenya, Tanzania among other destinations in Africa
These vehicles are ideal for Group travels, Family travels and also Airport Transfers from t several East African airports including Entebbe, Jomo Kenyatta, Arusha, Kigali International airport to your hotel of residence.
These vans are either petrol or diesel and are available for hire on both Self-drive option and chauffeur-driven options.
They are built to hold small-groups of travelers (up to 7 passengers). The vans have a big and spacious design so as to ensure the comfort of each passenger. Its large boot capacity is also a plus, as it can accommodate large luggage with minimal disruption to the travelers. You can hire the safari vans with or without a pop up roof.
We also have the 9 Seater Toyota Hiace van available for hire strictly on a chauffeur-driven basis. This van is spacious and comfortable, it can hold up to 9 passengers (driver included). The safari van rentals comes with great leg-room for each passenger. Our Safari vans are perfect for long-distance travels.
These Safari vans and vehicles are best used for: Business Travels, Airport Transfers, Friends holiday getaways, road-trips and vacations adventures, family car rental option
Safari Van Rental Features
Safari Van Features include:
Mileage Covered (unlimited)
Vehicle hire on the self-drive option
7-9 seat Capacity
Moderate luggage capacity
Working Air Conditioner, A/c
Fire Extinguisher
Air conditioning
A driver is available on request for $35 extra per day.
Why rent a Toyota Safari Van in Kenya with Car Rental 4×4
The spacious Toyota Safari van has an extraordinary interior that's enough to carry both occupants with their luggage.
They come handy with Air Condition for good aeration, as well as MP3/CD player, and a pop up roof.
All the Toyota Safari Vans vehicles are equipped with strong tires that's capable for all routes
We rent out a wide selection of well maintained Safari vans for self-drive or with a driver( at a reasonable rate from $35 per day). With our great benefits of unlimited kilometers and comprehensive insurance and 24/7 road service., rent a Land cruiser TX/TZ for your mid range safari in Africa, simply send us an email to rent@carrental4x4.com or call us on +256754787409 to speak with our reservation's personnel.