Car with Rooftop Tent in Uganda: Land Cruiser Car Rental With Rooftop Tent in Uganda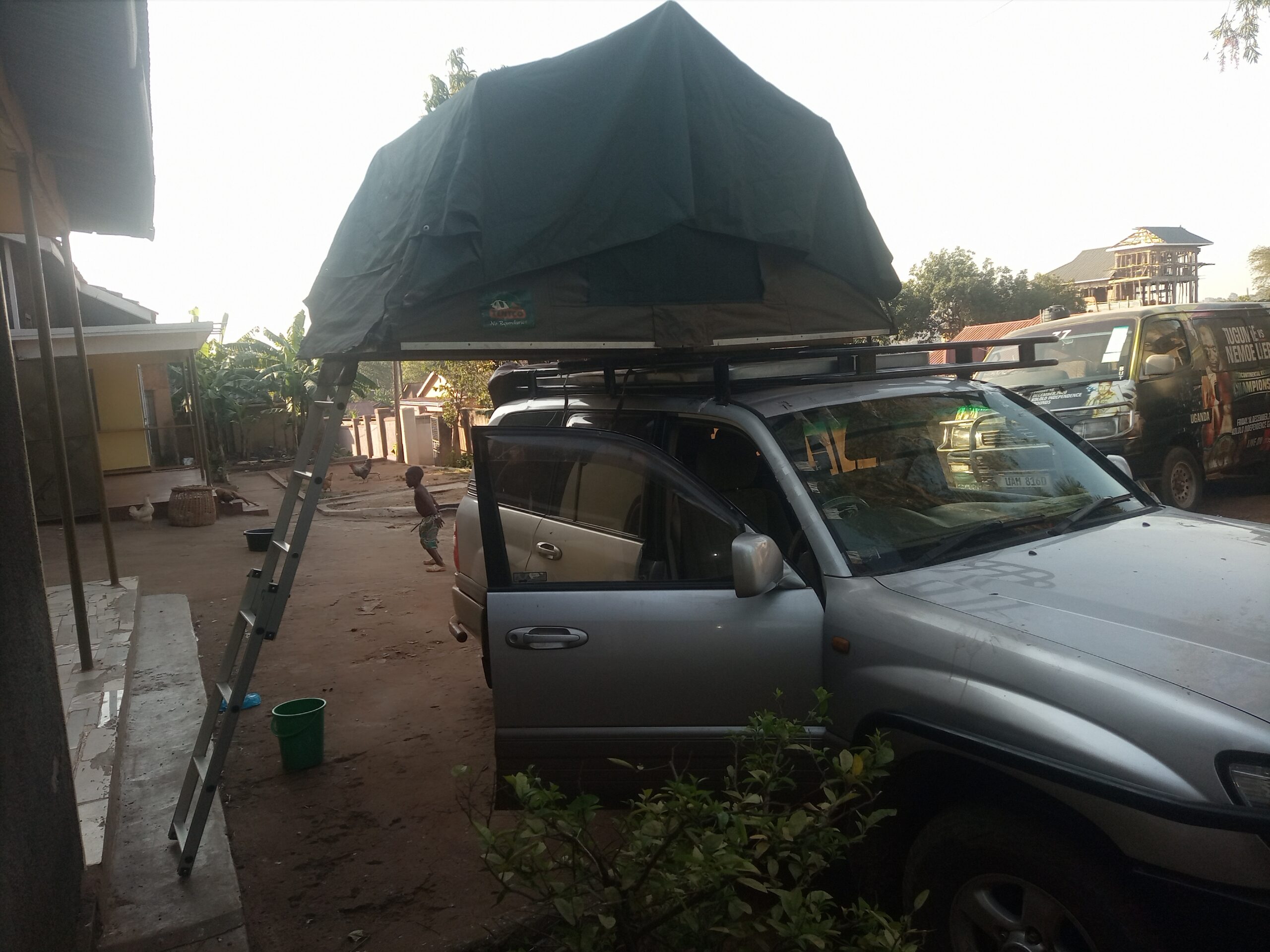 Rooftop tents Uganda: Hire 4×4 Land Cruiser Car Rental with a rooftop Tent in Uganda. Create your own self-drive safari in a 4×4 Car Rental With Rooftop Tent.
4WD Toyota Land Cruiser Car Rental with rooftop tents Uganda.
Rent a 4×4 Land Cruiser car rental with rooftop tent in Uganda at an affordable rates, top quality Toyota Land cruisers. We offer 4×4 Toyota Land Cruiser Car Rentals with rooftop tents for 2 to 4 people. These Land cruisers available include Land Cruiser GX, Land cruiser V8, Land cruiser LX, and Cruiser 78 series. All are well-established 4×4 rooftop tent Land cruiser rental Cars for camping safaris in Uganda. Start your 4×4 Camping Safari Adventure from Uganda with a land cruiser car rental with a rooftop tent in Uganda.
Equipped 4×4 Land cruiser  Car Rental with rooftop tents in Uganda: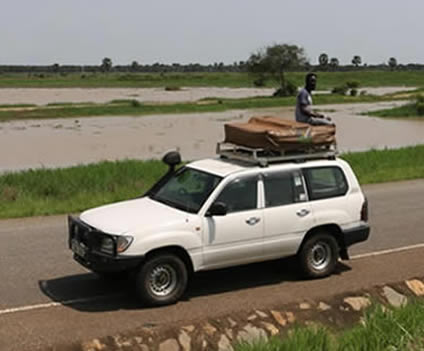 All our Fully Equipped 4×4 land cruiser car rental in Uganda have rooftop tents for sleeping, with camping equipment including cooking facilities, Camping tables, camping chairs, sleeping bags, gas cylinders and other extras on board. Air conditioning is in the cars as well.
These 4×4 standard Land cruiser Car rental with rooftop tents in Uganda are built to navigate through rough roads through the game parks, and other remote destinations.
Certainly Rent a 4×4 Land cruiser with rooftop tent in Uganda – this is why:
It is essential to rent a strong 4×4 Land cruiser with rooftop tent in Uganda. You will be travelling on rugged, rough and dirt roads to access the many game parks and nature reserves in Uganda.
Choice of 4×4 Land cruisers with Rooftop tent in Uganda:
The Toyota Land cruiser LX. (Diesel) with Double Rooftop tents
These vehicles have a spare wheel, dual air bags, power steering and ABS brakes. They have turbo-diesel engines.
The Toyota Land Cruiser V8 with double Rooftop tents
4×4 Toyota Land Cruiser V8 has ABS brakes, a closed body with turbo petrol engine.
The Toyota Land Cruiser GX with two rooftop tents
It has a diesel,  manual engine and seats 5.
Campsites in Uganda- Rooftop Tents Uganda:
There are numerous campsites in Uganda with prominent facilities such as bathrooms, toilets,  and water facilities and you will be given essential safety tips on collection of your Land cruiser with rooftop tent.
You are travelling in exciting areas of Uganda alongside some of nature's most endangered species including gorillas, and chimpanzees. Take long lenses and good cameras and good binoculars.
Everything you need on your 4×4 Rooftop tents Uganda Land cruiser Car Rental:
All the rental Land cruisers with rooftop tents are fully equipped with everything you need for your self-drive safari.
Standard Rental Rates Include:
The standard rates include:
Unlimited mileage
Local Tax (VAT)
Comprehensive insurance
Maps
Transfers from Airport and Hotels
Cooking Equipment/Gear
Emergency backup vehicles
Full water tank and gas bottle(s)
Get the best discounts on 4×4 Rentals in Botswana
There are discounts for longer term rentals. Extra charges and full terms and conditions including optional extras are shown when you request a free quote or make a booking.
No hidden Costs.
All costs are displayed before you enter your payment details. If there is anything you need clarified, please contact us.
Take Your Time when You Collect your 4×4 Rental.
Take advantage of the introduction time when you collect your 4×4. Check that you know the difference between High Ratio, Low Ratio and also when to use the diff lock.
It is advised that you let some of the air out when travelling on sand roads. Find out how to do this and when to re-inflate them.
Driving a 4×4 Land Cruiser with rooftop tent in Uganda
Driving in Uganda does offer either more or less challenging driving but with a bit of practice you will familiarize.
Check out the level of  the water depths before driving through submerged roads. Check the animals in the area too before you make any crossing.
Best time to Visit Uganda.
The best time to visit Botswana is between May and September. The Okavango, Moremi and Chobe are the best National Parks for game watching.
What to Wear in Uganda?
It is essential to dress casual for hot weather and carry a light waterproof jacket, walking boots, short sleeve and long sleeve shirts. It is important that you take a sun hat.
The 4×4 Land Cruisers with either 2 or 1 rooftop tent, seats up to 4-5 people as well as sleeps 2-4 persons in tents that are perched on the roof.
Find the best rates for 4WD Land Cruiser Car Rental with A Rooftop tent?
It's easy to get a quote to find out all the rental costs before you book. Generate an exact quote online through our reservations our booking engine or give us a call to find out more.
4×4 Fleets With Rooftop Tent
GX With Double Rooftop Tent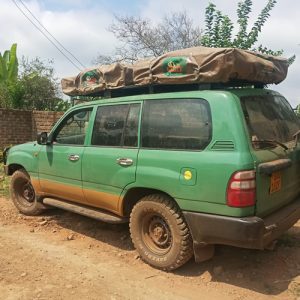 V8 With One Rooftop Tent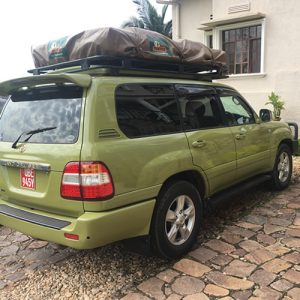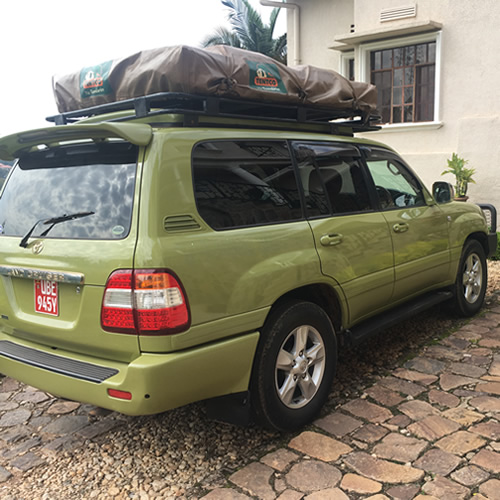 Lx With Double RoofTop Tent